'Hiring Red, White & You' job fair in Nacogdoches focused on veterans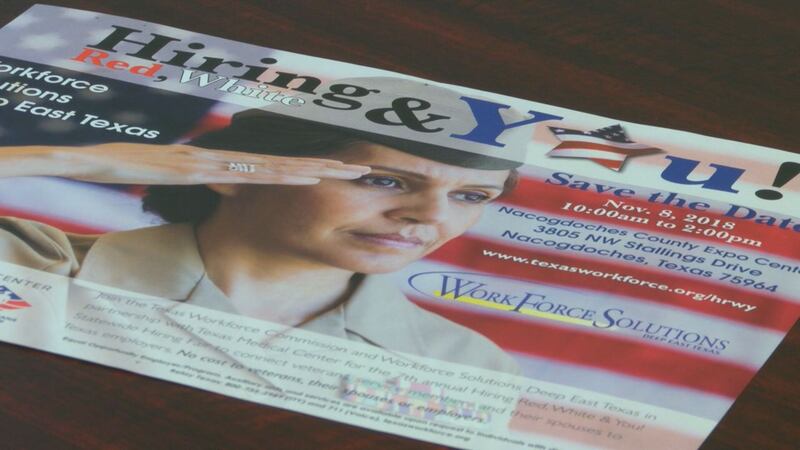 Updated: Nov. 7, 2018 at 6:48 PM CST
NACOGDOCHES, TX (KTRE) - As always, the week of Veteran's Day, Texas Workforce Solutions offices around the state are hosting "Hiring Red, White, and You" job fairs on Thursday, Nov. 8.
There will be 28 job fairs around the state, including one in Nacogdoches to serve Deep East Texas. Right at 50 employers, representing a wide range of fields, will be present. Resume and interview instructors will be there, too.
Face to face meetings are important even if applications were filed online, according to Nacogdoches Workforce Center's Ramona Kimble.
"It gives a lot of the employers an opportunity to see those faces," Kimble said. "A person may say, 'Hey, I put in an application a couple of weeks ago online, but I've never heard from you.' Now I'm getting to see you and say, 'Hey, this is my qualifications.' And they may reconsider or go back and see if they can find that application or encourage you to reapply."
In Nacogdoches, the job fair is Thursday, Nov. 8 from 10 a.m. to 2 p.m. at the Nacogdoches County Expo Center. Other job fairs around the region and state can be found at www.texasworkforce.org/hrwy
Copyright 2018 KTRE. All rights reserved.