Blue Star Mothers chapter forms in Nacogdoches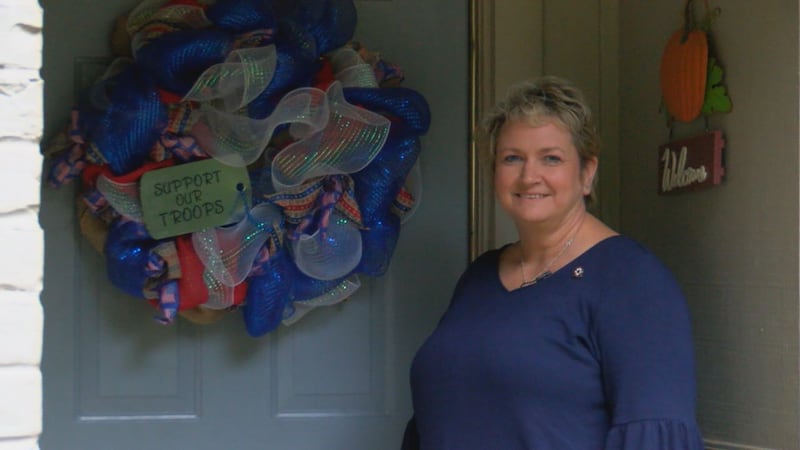 Updated: Nov. 9, 2018 at 6:49 PM CST
NACOGDOCHES, TX (KTRE) - Across the nation, there are over 200 chapters of an organization called, Blue Star Mothers. This week during Veteran's Day celebrations, Nacogdoches military moms completed a major step in sanctioning the support group's newest chapter. Kim Cooper McDonald is leading the push.
A Blue Star Service banner and lots of red, white and blue let people know McDonald is patriotic.
Pride grows when this military mom talks about her kids.
"This is my daughter who has served," said McDonald as she pointed to a row of photographs. "She's a veteran. Her husband is a veteran. This is my youngest daughter. She's an Army wife and her husband is currently a recruiter."
Clearly, the former Houston resident qualified for Blue Star Mothers membership and eventually leadership.
"I served as a past president of the Houston chapter."
Upon moving to Nacogdoches, McDonald immediately looked for a chapter. There wasn't one. So the dedicated flag-waver set out to form Blue Star Mothers Deep East Texas.
"We do care packages, Wreaths Across America. We do welcome homes to troops coming home. We send off troops leaving for deployment. And then we support each other."
Something Pauline Patterson can appreciate.
"We have two blue stars in our window."
One for an Air Force daughter.
"She's a Lt. Colonel and pediatric nurse practitioner. She just got her doctorate."}
The other star is for an Army grandson.
"He served three tours in the Middle East."}
This maker of Quilts of Valor understands the benefits of sharing.
"Any kind of support group of common interests I think is very important for people," said Patterson.
Soon Blue Star Mothers Deep East Texas will provide that service.
Blue Star Mothers Deep East Texas will serve a radius 30 miles outside of Houston and Tyler. Family and friends can join as associate members. The next meeting is set for December 6th at 6:30 p.m. at the VFW Hall at 2405 Hunter in Nacogdoches.
Other Veteran's Day observances will be Saturday. The Nacogdoches parade will be held at ten and on Sunday patriotic music and a message will be shared at Westminster Presbyterian church at 11 a.m.
Copyright 2018 KTRE. All rights reserved.