NWS confirms 3 tornadoes touched down in Houston County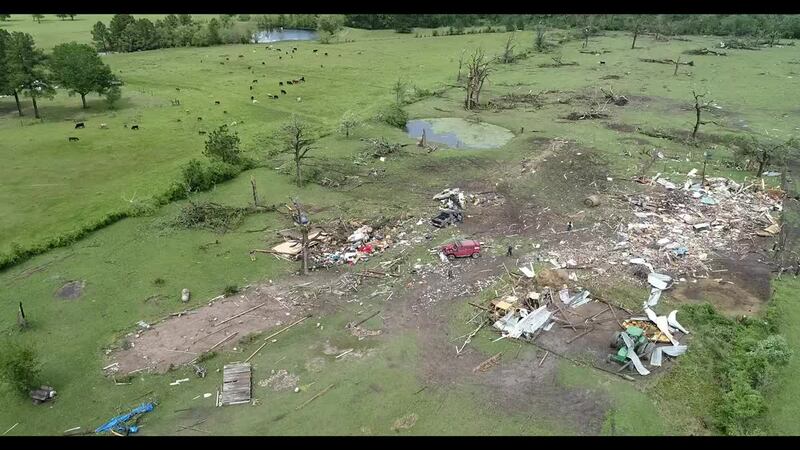 Updated: Apr. 14, 2019 at 9:40 PM CDT
HOUSTON COUNTY (KTRE) - The National Weather Service has confirmed 3 tornadoes touched down in Houston County during Saturday's fatal storms.
According to the National Weather Service Houston, their survey team confirmed on Sunday 3 there were 3 tornados in Houston County.
The team confirmed an EF-3 touched down near the Weches community. An EF-2 tornado was confirmed to have passed through the Loveday areas while an EF-1 touched down in the Ratcliff area.
Damages have been reported throughout Houston County. According to Game Warden Zach Benge, a home on Tadmor in the Ratcliff area was significantly damaged. Downed trees and power lines have been reported near Lovelady.
Houston County officials say they found the body of a woman about 150 yards from her destroyed home on Highway 21 West.
Four people were also treated and released after being injured when a mobile home was destroyed in Ratcliff.
The National Weather Service said Sunday that survey teams reached preliminary conclusions on the strength of the tornadoes that moved through Cherokee County. The teams determined an EF-2 and an EF-3 touched down in Cherokee County.
RELATED:
To help the victims of these storms, click here to donate to either the American Red Cross or the East Texas Food Bank. Both agencies are working daily in these storm-impacted areas of East Texas.
Copyright 2019 KTRE. All rights reserved.