Trinity County newlyweds joke that crash involving bride's father had to do with groom's new life insurance
Updated: Jul. 25, 2019 at 3:33 PM CDT
TRINITY COUNTY, Texas (KTRE) - A father being critical of his daughter's husband may be a bit old-fashioned in 2019, but a Trinity County couple had reason to believe the father of the bride really did have an ulterior motive (not really).
Jody and Brooke Vincent were newlyweds enjoying their morning after their wedding, talking about the responsibilities that came with being married. The topic of life insurance came up, and concerning Jody's hazardous work in the oil field, the couple decided a life insurance policy was an appropriate precaution to take.
"We were just talking about benefits and stuff, and how I was his beneficiary and whatnot, now that we were married," said Brooke. "We go to leave, and it ain't even 10 minutes later when we get rear-ended sitting at a red light."
The couple peered out the back of the vehicle to find the driver who had crashed into them was none other than Brooke's father.
"We left the motel room, we actually left before them to come back home," said Raymond Bogs, Jr., Brooke's father. "We was coming up to a red light, come to a stop. My phone rings -- my youngest daughter had my phone in back seat -- and I reach back to grab my phone.
"I just took my foot off the brake, it that was simple; I took my mind off of what I was supposed to be doing. I just rolled into them," Bogs added.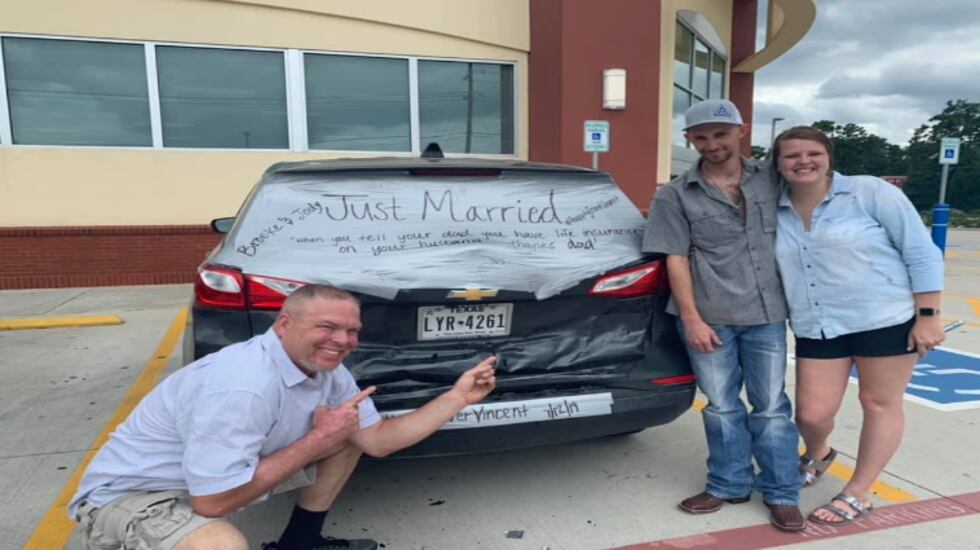 The impact smashed in the back trunk area of the couple's vehicle. The entire time, neither party knew who was in the other vehicle, until Bogs saw a wedding gift his wife made for the newlyweds.
"I said, oh my God, that's Brooke and Jody," Bogs laughed. "I see our gift right in the back window, and we're like oh my goodness."
"[Jody's] first initial thought was is everything okay with your dad, making sure he was okay," Brooke recalled. "But after we got checked out and everyone was okay, we kind of made a joke out of it."
The family stopped at the first store they could find and bought rolls of duck tape to cover the shattered back window, Bogs said. That's when Brooke had the idea of writing a special message under 'Just Married': 'When you tell your dad you have life insurance on your husband - thanks dad!'
"We got to talking and thought hey, that's crazy that we got to talking about life insurance policy on her new husband, and here I am trying to run them over at a red light," Bogs said.
"To most people, it probably looked like my dad was trying to help me get a little money in my pocket," Brooke laughed. "Some people did take it seriously, and tagged the police department, but nobody was harmed, and it wasn't a serious setup, it was just a freak accident."
"And somebody just can't drive," Jody added, peering over at Bogs.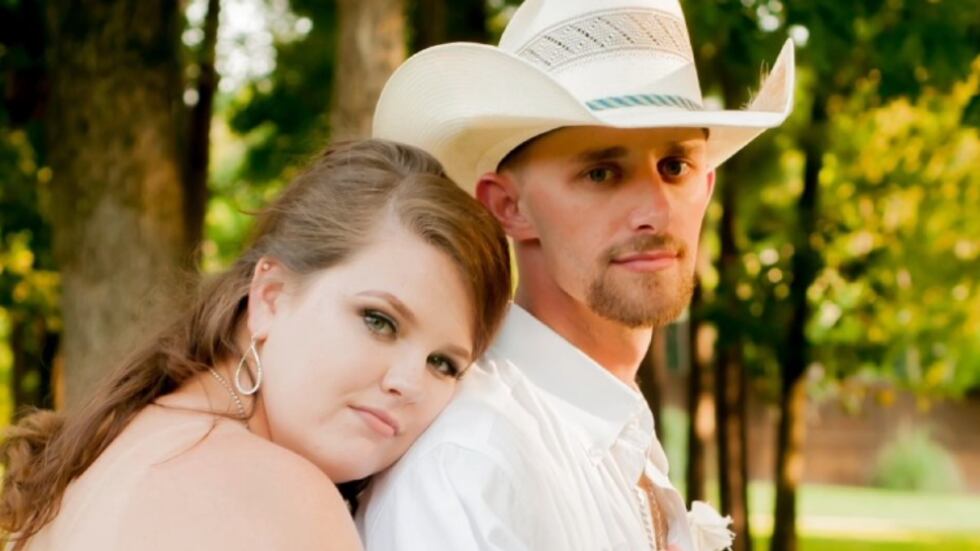 No one was hurt, but the couple said the memory they have of the afternoon will live with them for the rest of their lives.
The unplanned pit stop didn't do much to spoil honeymoon plans, either; the couple soon left on a cruise to Cozumel.
Copyright 2019 KTRE. All rights reserved.