Volunteer day to restore cemetery uncovers headstones and reveals family connections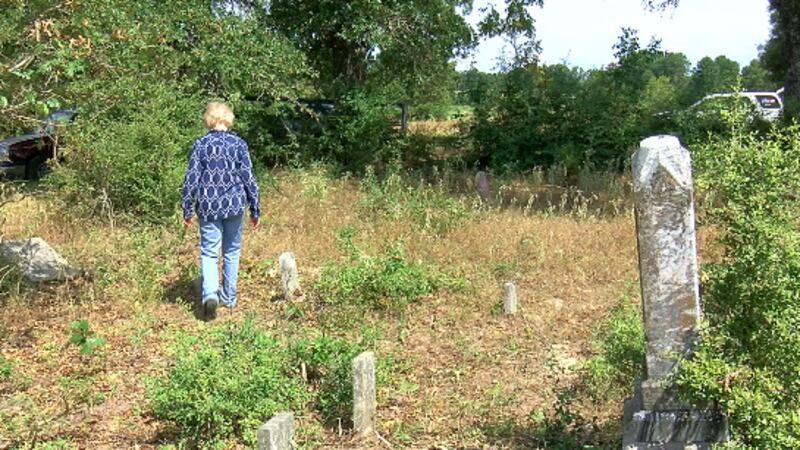 Updated: Aug. 24, 2019 at 4:02 PM CDT
GRAPELAND, Texas (KTRE) - A plan to restore an abandoned cemetery is bringing people together in more ways than one. On Saturday, volunteers from different communities came together to clean up a cemetery from the 1800′s just outside of Grapeland.
Glenda Christ says she has lived next to Tyer Cemetery in Houston County since she was a little girl.
"These people started being buried here in the 1800′s, and the last grave that was buried here was 1923," Christ said.
Now in her 80's, she's on a mission to have it restored.
"It's got trees all in it, it's full of brush, the markers have been knocked over by cows," She said. "It's just not been taken care of in twenty or thirty years."
But she says she can't do it alone. Members of her family and volunteers from different towns came out to begin removing some of the brush covering the gravesite.
A tree removal company even took down a large tree growing in the middle of the site. Normally costing thousands of dollars, they provided this service for free.
"Mr. Frizzell came and cut this really large cedar tree out so that it won't fall on the fence, because it's been close to falling all these years," Christ said.
As the brush is removed, family histories are being revealed. She says one headstone found in the cemetery has brought two strangers together.
"His name is O'Connor Denson, and this one woman said that was her great-grandfather, and then another lady, out of the blue, called me and she was looking for her great-grandfather, O'Connor Denson," Christ said. "They didn't even know each other."
She says they only made a small dent in the project on Saturday, but that she's determined to see it through.
"I need more volunteers to come and help clean it up," she said. "It's full of brush that we need to get out of there."
Christ says she has scheduled another volunteer cleanup day for Saturday, August 31st. Tyer cemetery is located on FM 227 just four miles east of Grapeland. Cleanup will begin at 7:00 am.
Copyright 2019 KTRE. All rights reserved.