Patriot Guard and families welcome home East Texas service members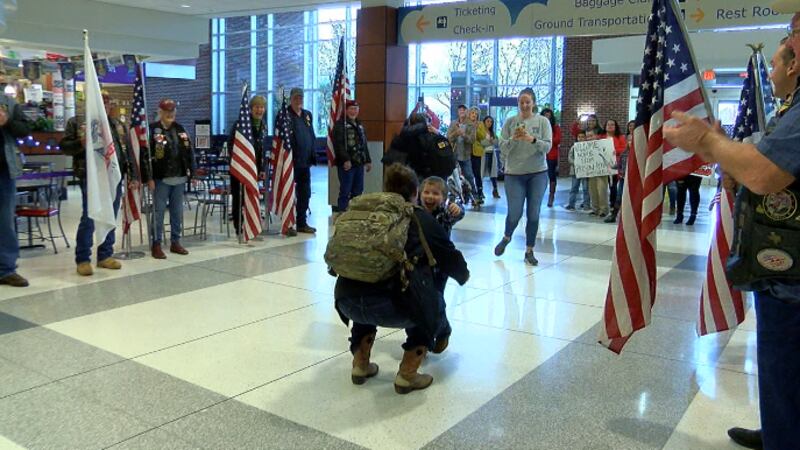 Updated: Feb. 11, 2020 at 7:15 PM CST
TYLER, Texas (KLTV) - Soldiers coming home to East Texas were greeted with a hero's welcome — signs, flags and lots of hugs.
"We want to make sure that all these young people know that we will welcome them home and their families know we'll welcome them home if they ask us," said Michael Eubank, with the Patriot Guard Riders of East Texas. "They need to be welcomed home from overseas, or wherever."
The soldiers were surprised with the Patriot Guard welcome.
"That too is an honor and a blessing," said Dennis Edwards, a specialist with the United States Army. "They served, a lot of those people are veterans, and for them to take time out to give us a welcoming, it means a lot."
Some family members were also surprised by the homecoming.
Five-year-old Thomas White was surprised to see his mom for the first time in almost a year — when he thought he was picking up his grandpa from the airport.
"I love her," said White, hugging his mother, Amanda Riley.
"I can't put it into words," said Riley. "I just started crying. I was so excited and so happy."
Those coming home said it meant the world to be welcomed like that.
"Being gone for nine months, it really showed me who I have in my corner and who I don't," said Edwards. "Seeing them here lets me know, reaffirms, who I do have in my corner, so I really appreciate that."
The Patriot Guard Riders said they were happy to be a part of the surprise.
"They all know this is a time they need to embellish and we want to embellish with them," said Eubank.
Riley said she hopes everyone serving knows they have people at home supporting them.
"There are people back home that support them and will do anything to help them, even if they don't think that's a thing," said Riley. "It's hard, but we're all going through it together."
To learn more about the Patriot Guard Riders of East Texas, head to their website.
Copyright 2020 KLTV. All rights reserved.