MHS football player Zaidyn Ward headed back to school after collapsing on field
Zaidyn Ward
Published: Jan. 6, 2023 at 10:07 PM CST
|
Updated: Jan. 6, 2023 at 10:28 PM CST
LUBBOCK, Texas (KCBD) - After two procedures, a month of homebound school, and a long time of not seeing his friends, the Monterey High School football player who collapsed on the field is going back to school Monday.
15-year-old Zaidyn Ward is feeling good about walking back into MHS.
"I'm ready to see my friends," Zaidyn said.
A teacher came into their home and taught him for two hours a day three days a week for a month. The homebound schooling was recommended by Monterey administrators because of how tired Zaidyn was.
PREVIOUS STORY: Monterey football player who collapsed after game needs open heart surgery
"They were noticing that he was a little, giving out a little more frequently and just wasn't able to maintain a full day," Zaidyn's grandmother, Judy Combs, said.
Zaidyn's mom and grandma were hopeful when doctors inserted the SCID Defibrillator that he would start acting more like the active teenager he was.
"He has a little more energy than he did before the surgery, and he's so far, it hasn't been a month yet, but it'll be a month on the 14th but he's so far so good," Judy said.
PREVIOUS STORY: MHS football player undergoing follow-up procedure after open-heart surgery
The defibrillator was meant to go in-between muscles in his chest, but since Zaidyn lost weight, it had to be put on his side.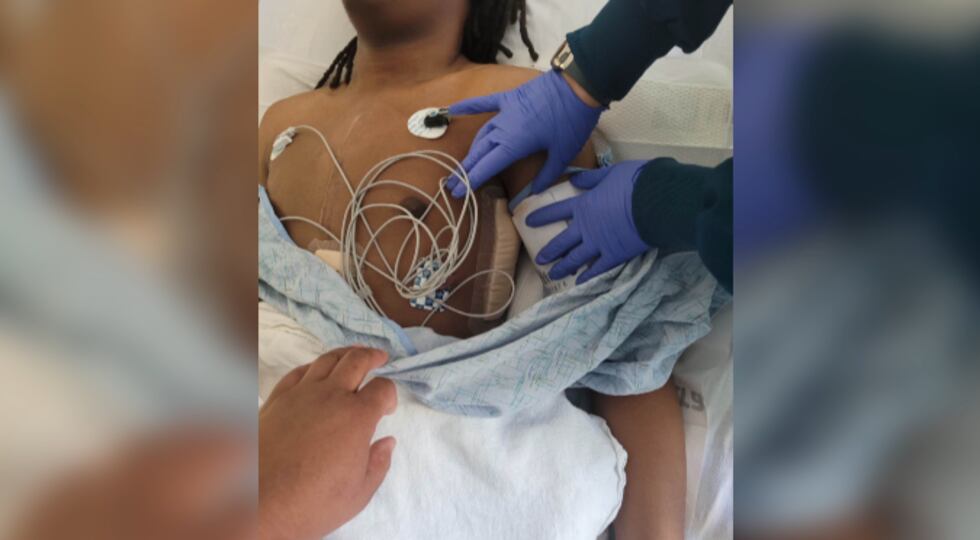 This is making his mom, Cassandra Combs, nervous for those busy passing periods between classes.
PREVIOUS STORY: Surgery postponed for Monterey football player who collapsed after game
"Being in a school full of people, you don't want anybody to bump into where he had that procedure at, and stuff, take his time," Cassandra said.
Getting sick could take a toll on him, so Zaidyn will be wearing a mask at school. Despite her nerves, Cassandra knows going back is for the best.
"He does better learning in the classrooms, but he'll get a little bit of his normal life back," Cassandra said.
The family met with administrators at Monterey on Friday. They decided Zaidyn can go to school until he's tired, then he goes home to rest up for the next day. The cooperation from Monterey has made his grandmother want to chant 'Beat 'em red, Beat 'em blue,' a little louder.
"The staff and Mr. Purkeypile and everyone at Monterey has really been great," Judy said. "Working with Zaidyn, making him as comfortable as possible and not just putting him on the spot, knowing that he had health issues, they've really been wonderful, I mean really wonderful."
Zaidyn wants to thank everyone for their support and kind words throughout this journey.
"So that people care, and people see the story," Zaidyn said.
To support Zaidyn's recovery click here.
Copyright 2023 KCBD. All rights reserved.