'In the next week, we're gonna know a lot more,' Sean Payton says about NFL coaching return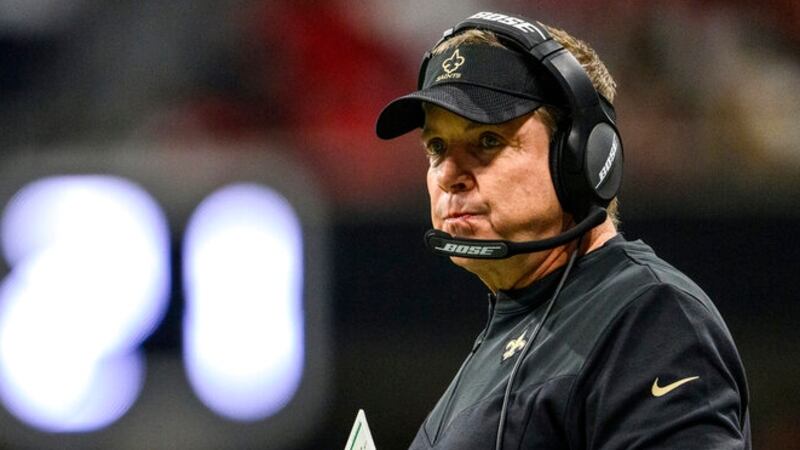 Published: Jan. 29, 2023 at 1:01 PM CST
NEW ORLEANS (WVUE) - Sean Payton indicated Sunday (Jan. 29) that some clarity about his NFL coaching future should come within days.
"I think, in the next week, we're gonna know a lot more," Payton said on the NFL on Fox pregame show before Sunday's NFC championship game.
Correspondent Peter Schrager asked Payton on the Fox Sports set about reports that the former Saints coach had interviewed this past week with the Arizona Cardinals, after previously speaking with the Denver Broncos and Houston Texans about their coaching vacancies. The Carolina Panthers, who also expressed interest in Payton, hired former Indianapolis Colts coach Frank Reich as their new head coach on Thursday.
"It's been a busy week (of interviewing), a great week," Payton said. "We've had a chance to visit with a lot of great owners, a lot of outstanding organizations that are obviously looking for a reboot.
"I think with the way the coaching hiring process has changed this year, we're seeing it play out a little longer for these clubs. And I think there's more pressure on everyone who's covering it. And I think it's a good thing, because they're allowing teams to get to the right candidates.
"I think in the next week we're gonna know a lot more."
Rumors began circulating this week that Payton might be leaning toward keeping his Fox Sports analyst gig for another year, to see whether a more appealing coaching job opened next off-season. Meanwhile, NFL reporters Dov Kleiman and Tom Pelissero have reported this week that the Saints' asking price for teams wanting to trade for Payton's contractual rights has included two first-round draft picks, stunting the market for the coach.
While Sean Payton told teams that he expects the #Saints to only ask for a mid-1st rounder for him in a trade, that's not the case.

"What teams have heard from Saints GM Mickey Loomis is two 1st round picks."

That's part of the problem with hiring Sean Payton, per @TomPelissero pic.twitter.com/xWhJ2PBdt8

— Dov Kleiman (@NFL_DovKleiman) January 29, 2023
Payton did not address either of those reports specifically on Sunday, but he did emphasize that the doors had not closed on him coaching a new team this year.
"No, no no no," Payton said emphatically. "There's a handful of things that are still taking place, for these coaches (other head coaching and coordinator candidates) and myself."
Co-host Charissa Thompson noted Payton was wearing an orange tie on set, matching one of the Denver Broncos' colors.
"Bengals," Payton answered.
See a spelling or grammar error in our story? Click Here to report it. Please include the headline.
Copyright 2023 WVUE. All rights reserved.