Lubbock ISD student wins regional spelling bee, headed to nationals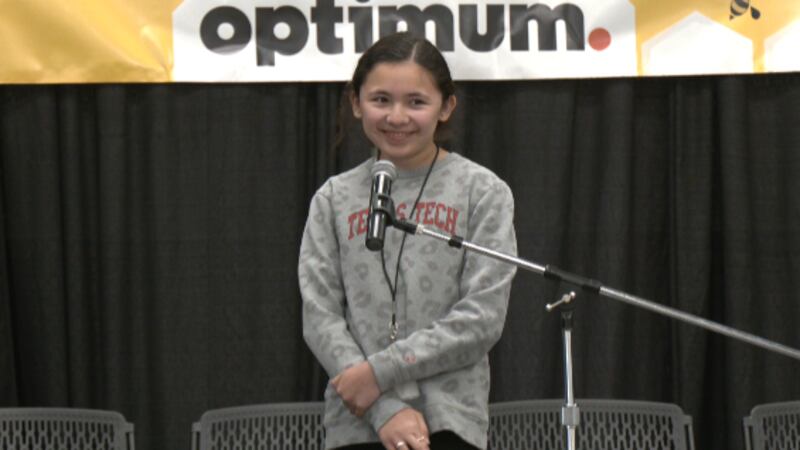 Published: Mar. 25, 2023 at 6:32 PM CDT
|
Updated: Mar. 25, 2023 at 10:22 PM CDT
LUBBOCK, Texas (KCBD) - A Lubbock ISD student is headed to Washington D.C. after winning the regional spelling bee in Lubbock on Saturday.
The winner, Ava Flores, is a 5th grader at Rush Elementary School. She competed against nearly ten kids in the spelling bee representing their school district.
Director of Sales for Ramar Communications, Brad Bullington, says this is helping to build skills students can utilize forever.
"We think it really prepares them for education later on where they have to prepare for a big test or a big challenge," Bullington said. "I can see where this would be life lessons they would carry on way past when they're out of school, and it'll be something they look back on for a long time."
By winning regionals, Flores secured a spot at the national spelling bee. She says she was nervous but wanted to make up for last year and reach her goals.
"I was in the spelling bee last year, but I didn't make it to regionals and I feel really good that I redeemed myself," Flores said.
Proud mother Jovanna Hinojos says they worked hard together to make it this far.
"There are columns of words. So, she would read through the words and then I would quiz her on them," Hinojos said. "Then, we would look up the pronunciation, and the definition of the words that we weren't sure about. Then, she would read over it again. We just did that every night."
Flores heads to Washington D.C. in June for the national spelling bee.
Copyright 2023 KCBD. All rights reserved.