Widows advocate for Texas House bill that would increase penalties for those who fail to slow down, move over for first responders
Groups advocating for the law and harsher penalties were also in attendance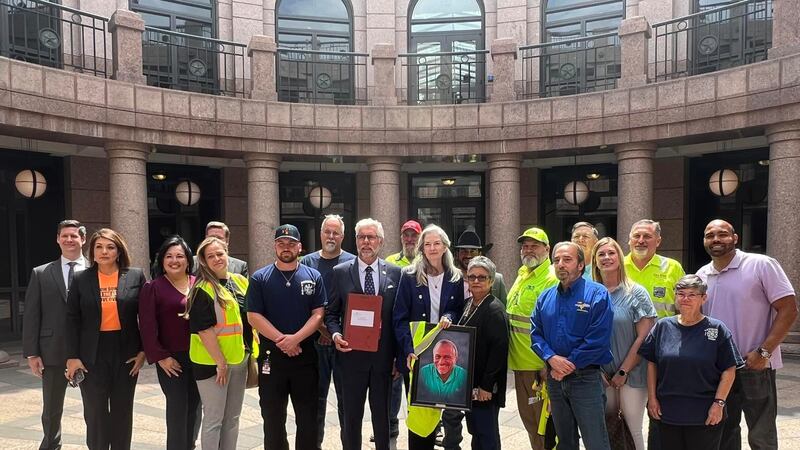 Published: Apr. 6, 2023 at 6:40 PM CDT
AUSTIN, Texas (KWTX) - Roadside accident survivors, widows and support groups made the trip to Austin, Wednesday, to speak in favor of House Bill 898 and the Slow Down, Move Over law.
"It was a very moving day to hear the stories of such tragic loss," said Mitzi Morin, who lost her husband to a roadside hit-n-run in December, last year.
Since 2019, at least 25 first responders, not including tow truck drivers, have been hit and killed along Texas roadways.
The Slow Down, Move Over law is supposed to protect emergency crews working roadsides, but as it stands, some don't think the penalties are tough enough.
That's where the proposed HB 898 comes into play.
"I want to draw attention to this bill because our emergency responders are being struck and killed, injured or killed, at a very high rate," said Morin during a testimonial in which she recounted the roadside death of her husband.
"It's been in the media, but you don't hear a lot about Slow Down Move Over," said Morin in a sit-down interview.
As it stands, the law requires drivers to change lanes or reduce their speed when first responders are working roadside.
If passed, HB 898 would increase the penalties for failing to do either.
"I feel it's so important that we protect the people that protect and rescue us," said Morin.
During testimonials, Morin said, only one person was against HB 898 citing that more accidents could occur from people trying to slow down and move over.
What they didn't know is that the law is already in effect and HB 898 only looks to increase the penalty for failing to follow it.
"The main thing is keeping other families from having to carry this load. It's tremendous," Morin said.
Nearly five months after Morin lost her husband, she's not giving up hope.
"We have to demonstrate to these valuable workers that their lives matter," she said in her testimonial on Wednesday.
If passed, the bill will go into effect later this year, in September.
Copyright 2023 KWTX. All rights reserved.