'I am so blessed:' Beloved Central Texas weatherman Rusty Garrett says he is cancer free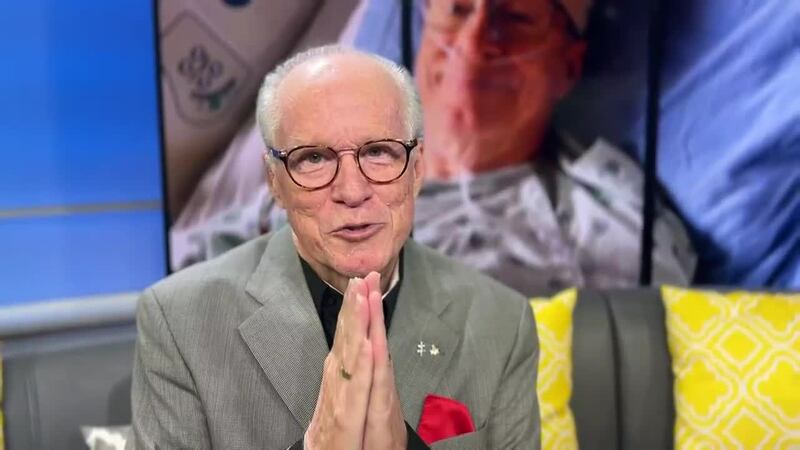 Published: Apr. 13, 2023 at 11:27 AM CDT
WACO, Texas (KWTX) - Beloved Central Texas weatherman Rusty Garrett, 67, who has been battling esophageal cancer since July 2022, has been declared cancer free.
It's been long, hard battle for Rusty, who has undergone multiple rounds of chemo and radiation, a 9-hour surgery and months of recovery which included a feeding tube.
"I asked Dr. Shaw point blank and he said, 'yes, you are cancer free. The margins are clear!" Rusty recalled.
Dr. Prashant Chandrakant Shah is Rusty's thoracic surgeon at Baylor Scott and White in Temple and delivered the good news to Rusty and his wife, Ann, on March 21.
It was a day they'd pray about for months.
The veteran meteorologist was diagnosed in July with stage two to three esophageal cancer, which is cancer that occurs in the esophagus, a long, hollow tube that runs from the throat to the stomach.
Rusty's first symptoms were digestive issues. "I know for a fact that I had the symptoms fairly early. In fact, six months prior, I started having digestive problems," Rusty said.
PART 1 OF JULIE'S FULL INTERVIEW WITH RUSTY GARRETT:
Rusty underwent an endoscope at Baylor Scott & White in Temple, where doctors discovered the tumor.
"They discovered that mass and found out after a biopsy that the tumor was malignant," Rusty said. "But, hey, let me tell you some good news, they found it at a time before it started to spread to other vital organs."
Rusty wasted no time fighting back with chemotherapy and radiation at the Baylor Scott & White McClinton Cancer Center, where he says he received excellent care.
In October, Rusty had a feeding tube put in because eating was becoming too difficult for him.
He underwent a major nine-hour surgery in Temple on January 12 to remove the tumor and reconstruct the affected area.
BELOW IS PART 2 OF JULIE'S FULL INTERVIEW WITH RUSTY GARRETT:
"If you think about where your throat meets your stomach, right where that meets, is where the tumor grew," Rusty said.
Rusty spent 18 days in the hospital recovering which included an additional surgery after an area began to leak.
Doctors surgically put in a stent in the area resulting in Rusty not being able to drink anything or eat by mouth for weeks.
"That was a complication. That's why I had to take six weeks without anything in my mouth, including water and no food because that leak that they patched that had to be completely dry," Rusty said. "So I couldn't drink or eat anything."
Rusty has battled cancer the way he faces everything in life - with a smile and a positive attitude.
His wife Ann, who cared for him every step of the day, says he remained optimistic and remained thankful for the little things like "beautiful sunsets."
His won Will, who is stationed in the Air Force in Japan with his wife Drew and Rusty's first grandchild Liam, said they couldn't be more proud.
"I just wanted to say congratulations and I'm so proud of you for getting through this journey. I know cancer has been a chore but you crushed it. I'm so proud of you. You've been so positive through this whole experience. You had a great impact on myself and I'm sure you've made an impact on all the viewers watching."
"We love you so much, Rusty, and we are so proud and so excited to see you so get your butt to Japan!" his daughter-in-law added.
Rusty said as soon as he's got the strength he plans to go to Japan to visit his family.
Rusty will have the feeding tube removed on Tuesday.
Rusty wants to thank everyone for your prayers and support during this time.
While he's thrilled to be "cancer free," he's also cautiously optimistic and will make sure he stays aggressive in keeping the cancer away.
"It makes me feel good but as you know cancer dies pretty hard and lonely," he said. "I have to go back every six months for a rescan. It makes me feel good that it's gone but want to make sure that I get those regular scans."
"But today, I feel so blessed."
Copyright 2023 KWTX. All rights reserved.