Looking back at who General Richard Cavazos was and the legacy he's paved going forward
You may recognize the name Richard Cavazos but there's much more to a person than their name. Find out more about the person behind newly renamed Fort Cavazos.
Published: May. 9, 2023 at 11:45 AM CDT
|
Updated: May. 9, 2023 at 11:47 AM CDT
FORT CAVAZOS, Texas (KWTX) - Those that knew General Richard Cavazos say he was hardworking, driven and wanted the same for those around him.
Cavazos is a Texas native, and the first to reach achievements no one else had accomplished.
"When you hear about a military hero, he is one of the people that come to mind," said AnaLuisa Carrillo-Tapia, LULAC district 17 director.
He was a Korean War recipient of the distinguished service cross as a first lieutenant and advanced in rank to become the United States Army's first Hispanic four-star general. Something that was a very big deal and still is to this day.
It's then that he served as the Third Corps commanding general from 1980 to 1982, reaching his two-year limit.
"[He's] a gentleman that deserves every honor in every respect because of his sacrifice, because of his dedication, because of his integrity," said Carrillo-Tapia.
Cavazos' military education started in 1951 at what's now Texas Tech University, in the Reserve Officers' Training Corps program.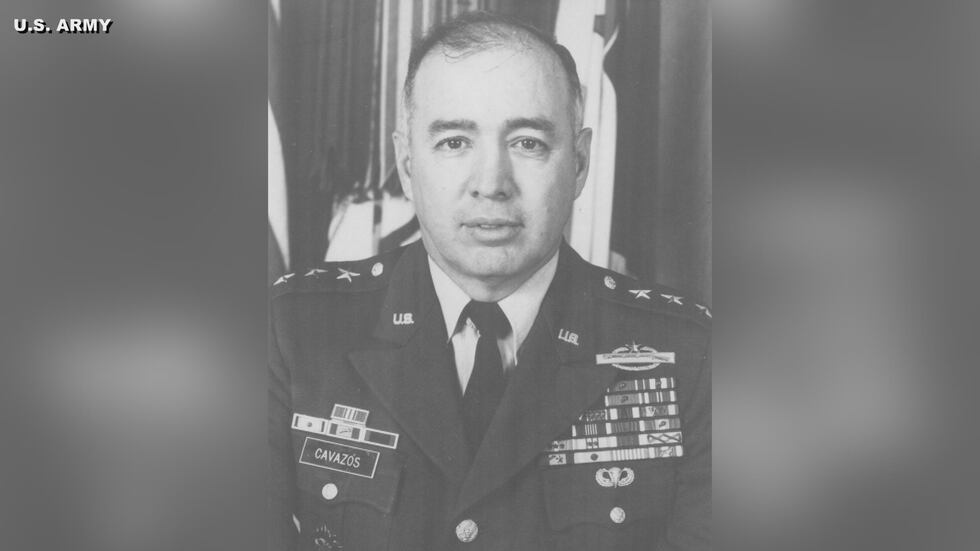 He continued with his military education and received basic training at Fort Benning Georgia before deploying to Korea in 1953 and then Vietnam in 1967 where he led an all-Puerto Rican battalion as Commander of the First Battalion, 18th infantry regiment.
"[He was] somebody who served, stepped up and served his country. Coming from humble beginnings in South Texas and rose through the ranks," said Domingo Garcia, LULAC national president.
Cavazos earned his first award, the distinguished service cross citation, for his actions during the Korean War and later earned the same award again for his actions during the Vietnam War; A war in which he volunteered for service.
"I think it inspires all Americans that no matter where they come from no matter who they are, that they will be recognized for their merits," said Garcia.
"He's just an awesome, outstanding example of that sacrifice of how we are not that much different," said Carrillo-Tapia
Not that different from the man who served Texas and his country for 33 years, earning 15 awards for his hard work and now gets to welcome new and old service members who pass through Fort Cavazos' gates every day.
"Not only a military base but the largest military base is just um it's just so gosh I can't even put it into words it's such an honor," said Carrillo-Tapia.
Both LULAC leaders in this piece met Cavazos before he died in 2017 and played a role in nominating the general for the post's renaming.
Copyright 2023 KWTX. All rights reserved.