U.M. ARMY mission group provides free home repairs in East Texas
First mission week of U.M Army was in Athens in 1979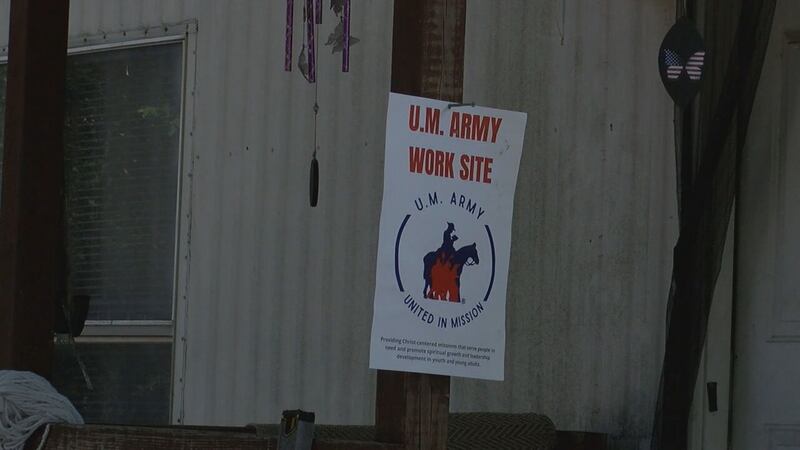 Published: Jun. 12, 2023 at 10:43 AM CDT
CARTHAGE, Texas (KLTV) - U.M. ARMY is celebrating its 45 years of ministry with continued community outreach across the nation.
It all started in 1979 when a group of adults and teens from three Houston churches went to their first mission week in Athens, and now have grown to over 60 programs across multiple states. They're called the United Methodist Action Reach-out Mission by Youth - U.M. ARMY.
Each year they identify areas and people in need and provide home repair and maintenance needs for low-income, elderly, and disabled homeowners who cannot make repairs themselves.
This year, three groups from Orange, Texas traveled three hours to Carthage to serve people in the community.
This is Joshua Hernandez' third time volunteering with the U.M. ARMY. Still, it was his first time putting his hands on these tools, but he did it for one reason.
"This person, he had a stroke and there's a risk of him falling down the steps, so we're building him a ramp right now," said Hernandez.
Another volunteer on this site, Alyssa Dempsey, enjoys learning about the homeowners they help.
"You're not like contracted to do this, you're doing it out of your free will and we go to like talk to the clients and see their backstories," said Dempsey. "We invited them to lunch and it's really fun."
As they serve those in the community they learn along the way.
"It's a really fun experience, you get to work with tools you've never worked with before and it's a good way to learn a lot of things about yourself," said Hernandez.
After each day finishes, they feel accomplished in what they did.
"Just coming back to the church at the end of the day and saying wow we helped a lot of people," said Dempsey.
Building a ramp requires a team, materials, and a leader to not only direct but bring motivation.
"There's going to be points in the week when we don't necessarily want to be out here working, but we are not here for us we are here for God," said Team Leader Trevor Guidry.
After days of hard work, they finished the ramp for this stroke survivor.
Now, he will be able to walk in and out of his home without any complications.
This week, these three groups worked on six different sites building ramps and porches and cleaning debris.
To learn more about who they are, what they do, and their future mission plans you can visit their website.
Copyright 2023 KLTV. All rights reserved.