Classmate of Grayson Boggs organizes benefit for family who lost two in lightning strike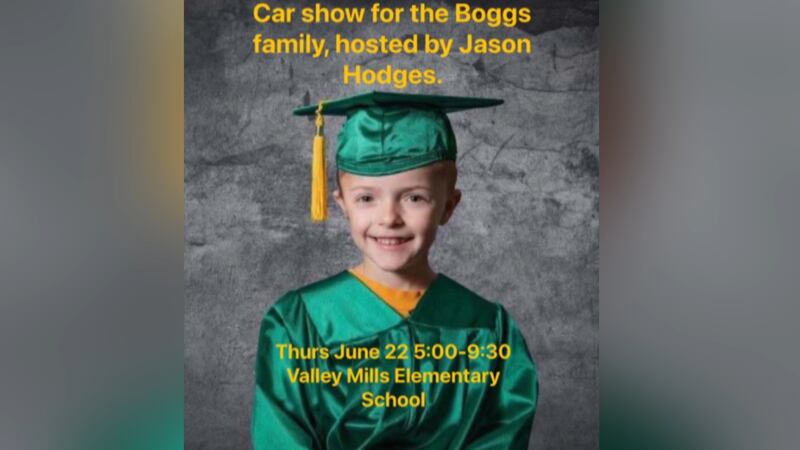 Published: Jun. 20, 2023 at 6:32 PM CDT
VALLEY MILLS, Texas (KWTX) - A young friend of the Boggs family is planning a big benefit event this week to help the family cover medical and funeral expenses.
Six-year-old Grayson Boggs from Valley Mills and his father Matthew Boggs both died after they were struck by lightning last month.
Family friend Jason Hodges said with Grayson passing away last Friday, after being in a coma for over a month, the family needs more support now than ever.
"There's an older sibling that's going to need so much support, there's going to be medical bills," Jason Hodges said.
That's the reason he decided to host the car show benefit called Rally in the Valley for the Boggs family.
"In small communities you lose one parent, you lose a working parent, you lose stability," Jason Hodges said.
The idea to organize the fundraiser actually came from Jason's son Easton, a friend of Grayson's who was in his same kindergarten class. For him, his friend's death is still tough to talk about.
"We played tag and it's really hard," Easton Hodges said.
Around 500 people have already committed to coming to this event, Hodges said. Attendees from all over the state of Texas will take to Valley Mills Elementary where they will park their cars and mingle.
The event will also feature a bouncy house, a dunk booth and a silent auction.
"Someone that is coming said they have an about 400 mile drive, but they would love to make it for a few hours," Jason Hodges said.
The car show benefit will be held in conjunction with another event called the Food Truck Fix on Six. All of the food trucks and vendors there will have donation buckets to collect money to go towards the Boggs family.
The event starts at 5 p.m. on Thursday at Valley Mills Elementary School, which is the school Grayson attended.
Copyright 2023 KWTX. All rights reserved.