New Texas law will increase penalties for people who fake a service dog
The bill was passed during the 88th Texas regular session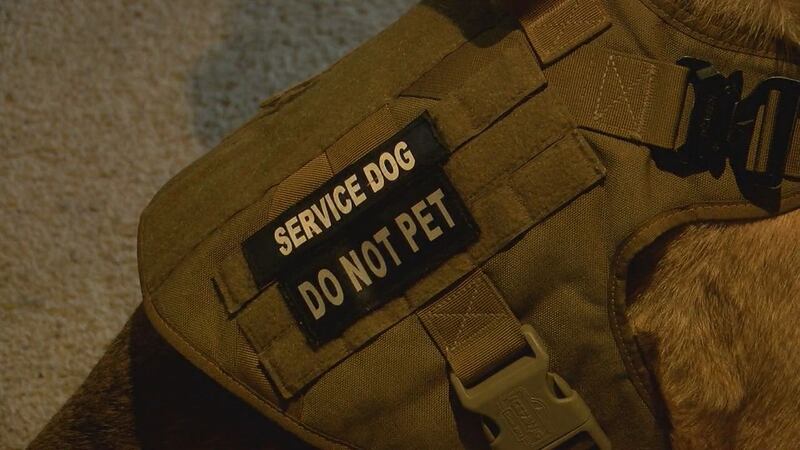 Published: Jun. 28, 2023 at 7:49 AM CDT
TYLER, Texas (KLTV/KTRE) - A year ago, Teresa Ehring moved from El Paso to Whitehouse, bringing her service dog, Beau with her.
Beau has been Ehring's dog for more than a year now, but even before he could assist her he needed to be trained to her specific needs.
"We made sure to go over my triggers with my trainer and from there we decided to pick different tasks that will benefit me the most," said Ehring.
She went through a traumatic event in 2018, that caused her to develop PTSD and made it difficult to go out.
However, now she has Beau who is trained to assist her through pressure therapy, behavior disruption for when she goes into a PTSD episode as well as being scent trained.
"I feel so much more confident going out and doing things just going to the store was so difficult for me and just having him with me makes me feel so secure," said Ehring.
Yet, going to public places with her service dog has not always had a good turnout.
"They don't necessarily believe me if that makes sense but, in my eyes, I feel like I don't have to prove them because my dog is going to prove that by him working," said Ehring.
According to the ADA, a service animal is a dog trained for an individual to work or perform tasks for people with disabilities.
At times, they can be confused with an emotional support animal which provides comfort to their owner in times of loneliness or eases anxiety.
Both service animals and support animals play an important role to their owners, yet since emotional support animals are not trained they are not considered service dogs under the ADA.
One way, Ehring says she can tell if a dog isn't a service animal is through their behavior.
"Service dogs they need to be friendly, said Ehring ."They're quiet they should be invisible ... no growling, no barking."
During the regular session, Texas lawmakers passed HB-4164, which makes it a misdemeanor for someone to intentionally fake a service dog, it increases the fine from $300 to $1,000 and adds 30 hours of community service to a nonprofit or government agency serving people with disabilities.
This law will not change anything regarding emotional support animals, they are still legal in Texas.
According to the ADA, businesses can ask two questions when it's not clear if a dog is a service animal:
• Is the dog a service animal required due to a disability?
• What work or task is the dog trained to do?
However, staff are not allowed to require the dog to demonstrate the task or documentation.
Ehring agrees the law will be a needed change, protecting businesses and people who depend on service animals like Bo.
"He's my soul mate he knows every bit of me, every part of me, even down to the smallest non-verbal cues he knows me he's always watching."
The new law goes into effect on Sept. 1st of this year.
Copyright 2023 KLTV. All rights reserved.