Dogs across East Texas cool off with dock diving competition
Published: Jul. 3, 2023 at 12:07 PM CDT
FLINT, Texas (KLTV) - Summer is here, and some dogs cooled off with a playful competition during this Texas heat.
"A Dog House in Flint" hosted its first dock diving event, where dogs of all breeds and sizes came together to compete.
"I think it's amazing. We've all been waiting for this for a long time," said Carly Dearmond, a dog owner.
The event became a place where dogs not only competed but enjoyed their time doing so.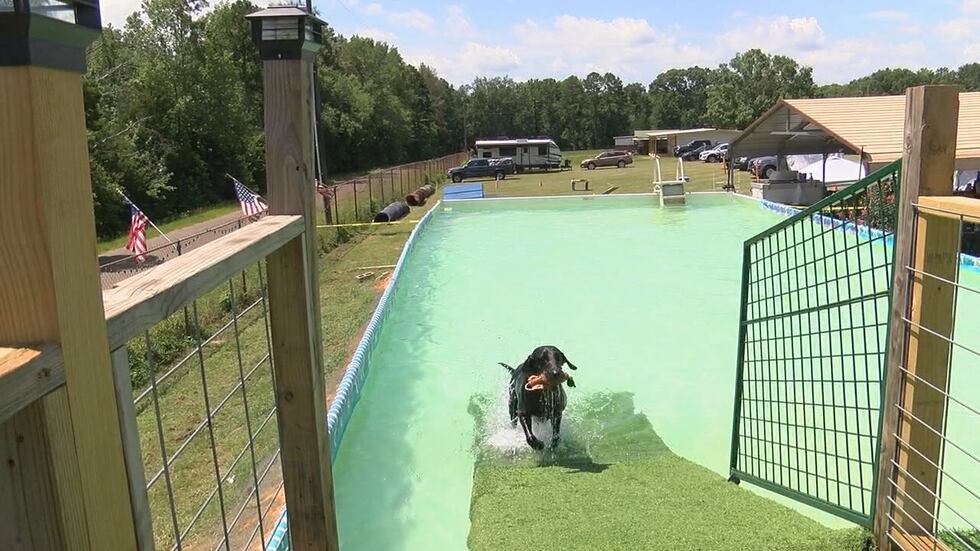 "Dogs like to have fun. They're not allowed to be forced in the water at all; it's strictly on free will, and the dogs thoroughly enjoy it," said Hal Walker, a judge of the competition.
Walker is one of two judges that participated in the distance jumping competition, where he looked for specific criteria.
"They are jumping for distance, and it's where the tail meets the body and reaches the water. We measure the distance there," said Walker.
The rules of this sport are simple. First, your dog needs to have a toy they love and enjoy swimming. Then, they wait on the dock, and that's when you throw their favorite toy into the pool. The goal is to have the longest jump possible. The sport requires dogs to be conditioned, handle the heat and be able to swim.
"Going farther, jumping up, swimming faster -- lots of different games that you can do. Actually, a lot goes into training versus your dog jumping in the pool," said Dearmond.
However, even if your dog has no experience in dock diving, they're welcome to try it out for the first time.
"It's good to just come out, bring your dog, socialize them, get them involved in something new that you never knew they can be involved in. If you see a dog jumping 20 feet, your dog can do that."
The next event will be taking place at night.
If you are interested in bringing your dog to "A Dog House in Flint," you can find more information on their page.
Copyright 2023 KLTV. All rights reserved.