Watermelon-cucumber salad by Mama Steph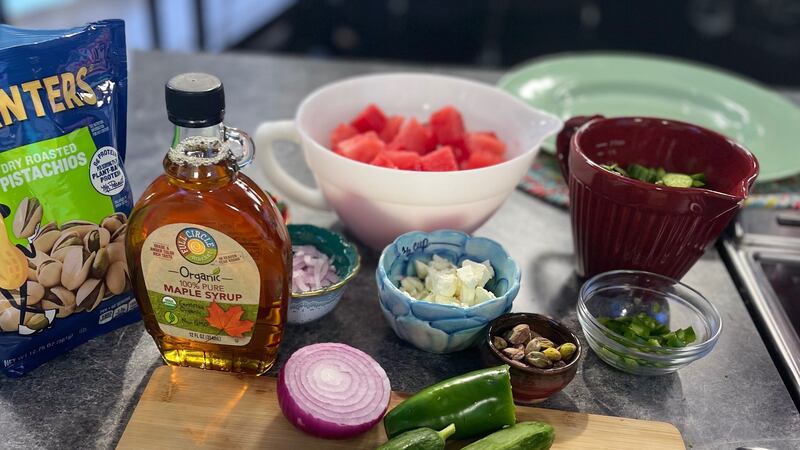 Published: Jul. 7, 2023 at 4:31 PM CDT
|
Updated: Jul. 11, 2023 at 2:48 PM CDT
TYLER, Texas (KLTV) - This salad is a flavorful twist on the usual watermelon salad, as it's been kicked up by the addition of fresh jalapenos to its combination of melon, cucumber and mint. Try this one alongside grilled or smoked meats for a bright, delicious contrast.
Watermelon-cucumber salad by Mama Steph
Ingredients
4 to 5 cups of seedless watermelon, cubed into bite-sized pieces
3 cups thinly sliced cucumbers, preferably English seedless
1 tablespoon minced fresh jalapeno (I prefer to remove seeds for this salad)
1/4 cup thinly-sliced red onion
1/4 cup minced fresh mint leaves
1/4 cup chopped pistachios
1/3 to 1/2 cup feta crumbles
Dressing:
1 tablespoon olive oil
3 tablespoons lime juice
1 teaspoon lime zest
pinch of salt
1 teaspoon maple syrup
Method
Combine dressing ingredients in a small bowl; whisk well.
For the salad:
In a salad bowl or mixing bowl, combine watermelon, cucumber, jalapeno, onion, and mint leaves.
Drizzle the dressing over the ingredients in the bowl, then toss gently.
Finally, add the feta and the pistachios to the bowl, and toss gently once again.
If you feel like the flavors are stronger than you'd like, add a few more cups of watermelon chunks and fold them in.
Serve immediately. If serving outdoors, place the salad in a glass bowl and set into a larger bowl of ice to keep it chilled.
Enjoy!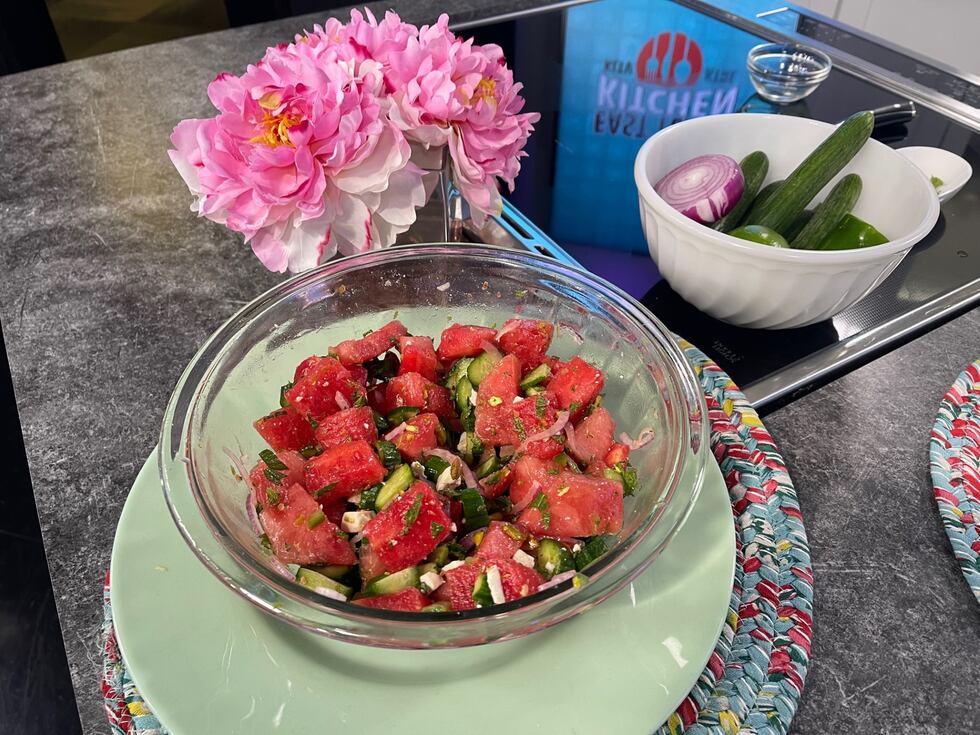 Copyright 2023 KLTV. All rights reserved.