Lamb County producer abandons crops after weather damage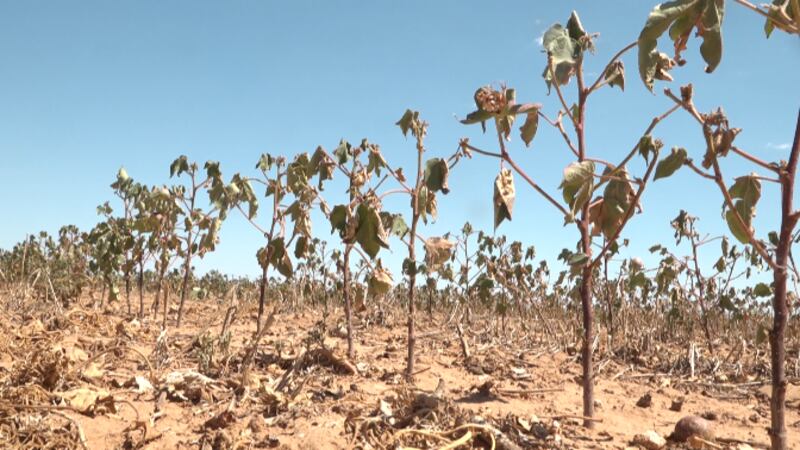 Published: Aug. 18, 2023 at 5:48 PM CDT
LUBBOCK, Texas (KCBD) - High temperatures with very little rain are taking a toll on the crops on the South Plains, forcing a Lamb County producer to abandon fields.
Ricky Yantis was able to plant some cotton this year that was growing well for a while.
"Every seed I had came up because of the rains and the moisture in the ground," Yantis said.
Then, it stopped raining and the triple-digit temperatures came.
"It's gone to burning up, it's even turning brown, and I've never seen that before," Yantis said.
Now, Yantis is left with a dried-up cotton field, leading to a total loss. He has some dryland cotton hanging on, but without rain soon, he expects that will have the same outcome.
"If we go another week in this area without another rain we're going to be, I hate to use this analogy, but we're going to be toast," Yantis said.
KCBD reported back in June Yantis had to switch to other commodities in some areas because he missed the cotton planting deadline from a lot of rain in May. The corn he planted in place also is damaged from storms recently.
"When we got 6/10ths on this farm and got it plummeted, just totally beat down, stripped the leaves," Yantis said.
That very little rain came with hail and high winds that damaged this corn, making it also a total loss.
"This wasn't the summer to do this," Yantis said.
Unlike the cotton he lost, this corn field wasn't insured. Yantis made that decision because it was contracted to go to a local dairy.
"Typically, it's hard to collect hail insurance on corn, but this time would have been a good time to have it," Yantis said.
He made the decision to abandon the crop because he doubts it will turn around.
"You do see some tassels trying to come out but there's no ear coming in the bottom and it's just not going to pollinate because of the surface below it," Yantis said.
Yantis told KCBD no matter what he's tried, it's had this outcome.
"I was putting all in I had, but I just didn't have enough water to keep up with the drought," Yantis said.
He hopes to harvest his irrigated cotton acres and some of his dryland, but will lose a lot of acres because of weather.
Copyright 2023 KCBD. All rights reserved.