East Texas pest control professionals speak of the dangers of mosquitos on 'World Mosquito Day'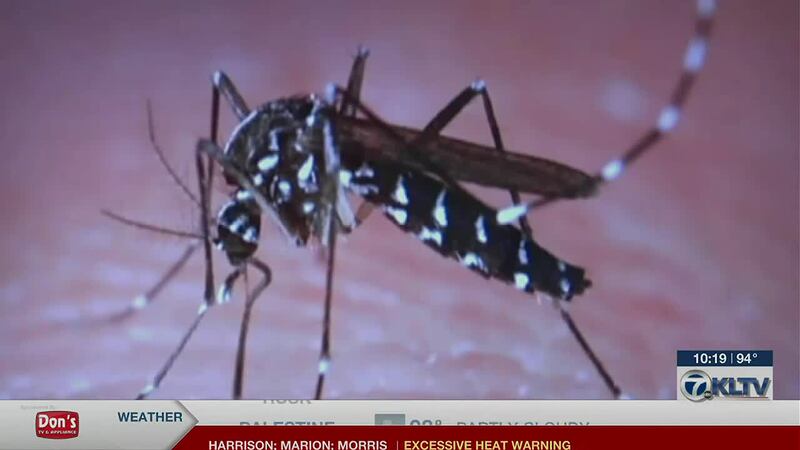 Published: Aug. 21, 2023 at 8:40 AM CDT
EAST TEXAS (KLTV) - World Mosquito Day, established in the late 1800′s, is not a day celebrating the mosquito, but a day of awareness.
Awareness of perhaps the most dangerous insect in human history.
In 1897, a British doctor discovered the malaria parasite in mosquitoes.
That started the observance of word mosquito day.
"If you see a spider on the side of your home or an ant mound in your yard, that's not a major issue to some people. But these guys you can't enjoy your own back yard. Have a nice little bar-b-que and every 5 minutes you're having to slap your face or legs or arms to get mosquitoes away from you," says professional pest control technician Pete Villegas of Lewisville pest control.
The day is used to raise awareness of mosquito-borne illnesses.
Awareness of the dangers posed by mosquito-borne diseases and the ongoing efforts to combat the world's deadliest insect.
It's only the female that bites, and draws blood. And only a little stagnant water is needed to lay eggs.
"It only takes about a teaspoon of water to a mosquito to breed in," Villegas says.
The world health organization says malaria is the cause of about 400-thousand deaths a year.
Mosquito-borne diseases kill more than one million people and infect up to 700 million each year, almost one in ten people.
Yellow fever, H1N1, Malaria, Eest Nile, Dengue fever, Zika, the mosquito is known to transmit all of them, but mostly in tropical areas.
Though massive efforts are made each year to reduce their population, its a mountain to climb.
A single female mosquito can lay 100 eggs every third night.
They can reproduce in the billions.
"A mosquito will lay millions of eggs over a life cycle. It's terrible," says Villegas.
To limit mosquito populations, you can have a professional treat your area.
Also eliminate any standing water such as buckets, tires, trash cans, anything that will hold even a little water.
Copyright 2023 KLTV. All rights reserved.