'That's a great thing we get to be a part of': Baylor welcomes new bear cubs to campus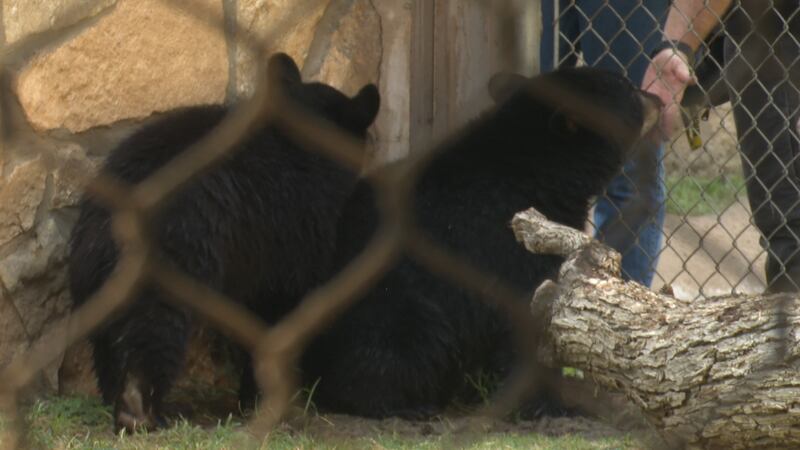 Published: Aug. 26, 2023 at 2:14 PM CDT
WACO, Texas (KWTX) - Baylor University is officially back in session, and this semester you'll likely find two new faces on campus. Black bear cubs Judge Indy and Judge Belle just made their first public debut on Baylor's campus on Saturday.
Students and faculty as well as alumni and their families all took to the Bill & Eva Williams Bear Habitat to get a glimpse of the newest Baylor bears.
"I really wanted to see the bears," freshman Bella Villanueva said. "After seeing them on Instagram I thought they were so cute."
It's the first time in more than 20 years that the Williams Bear Habitat has welcomed new bears. That's why Baylor University hosted the Meet the Cubs event, complete with food trucks, bouncy houses and a wood carving of Indy and Belle.
"Indy and Belle arriving has been the biggest highlight, not just for us, but also for the Baylor family in a long time," Baylor associate director of student activities, Dakota Farquhar-Caddell, said.
Caregivers say right now the bear cubs are being fed three bottles per day.
"We're also introducing them to solid foods like sweet potatoes, lettuce, oranges and avocados, just introducing those to them," caregiver Griffin Hunt said.
The cubs were rescued from a park in Idaho. This comes after one of the university's bears, Joy, died last year. Her sister, Lady, had been living on campus alone but was recently moved to an off campus sanctuary for retirement.
"They were overpopulated and we were at a point in our Baylor history where we could take some bears in and it worked out perfectly," Farquhar-Caddell said.
As 7-month bear cubs Indy and Belle enter this new chapter, it's a new start for some students too.
"I got to see Lady when I toured, so it was really cool that now that we're freshman these bears are starting with us and that's a great thing we get to be a part of," freshman Lindsay Griffin said.
If you missed Saturday's event, you can still typically find Indy and Belle at the Williams Bear Habitat in the morning hours. Caregivers recommend following them on Instagram and X to find more specific visiting hours.
Copyright 2023 KWTX. All rights reserved.