Farmers to receive $1.17 billion from USDA through Emergency Relief Programs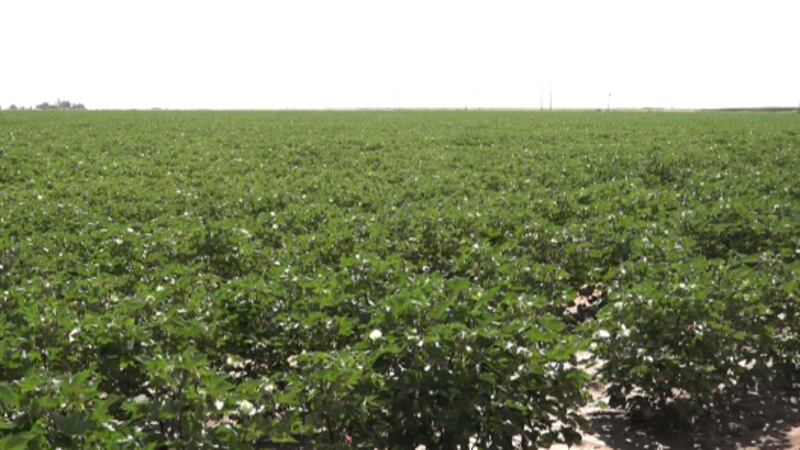 Published: Aug. 27, 2023 at 7:42 PM CDT
|
Updated: Sep. 27, 2023 at 11:13 AM CDT
HALE COUNTY, Texas (KCBD) - UPDATE: On Sept. 27, the USDA announced the closing out of Phase Two of the 2020-2021 Emergency Relief Program, which will deliver more than $1.17 billion in crop disaster assistance payments. Many producers across the South Plains suffered losses last year and have been waiting for this money to cover the decreases in revenue.
Farmers say the United States Department of Agriculture has yet to provide emergency response payments from last year and it's adding extra financial stress as they try to grow more crops.
Bobby Byrd out of Hale County says many producers desperately need the Emergency Relief Program (ERP) money from 2022. He said it was needed before this year's crop was planted because of the significant loss farmers across the country felt with the 2022 crop.
"ERP helps with these losses we have with excessive droughts and stuff like that," Byrd said.
Extreme drought in 2022 accompanied by high input cost took a toll on many farmers. So, they were looking forward to support from the USDA's Emergency Response Program, but they are still waiting on it. Byrd said that is not the ideal situation.
"You need to have the ability to overcome the loss at least pretty close to the year that the loss occurs," Byrd said.
Many farmers were able to claim insurance on their crops from 2022, but Byrd tells KCBD it doesn't cover producers like him completely.
"Insurance doesn't make you whole, insurance kind of gets you by," Byrd said. "If you're in financial trouble and you're still waiting for some help through ERP or disaster funding stuff like that, that causes tremendous stress."
Some farmers are already facing a loss in 2023 from excessive rain postponing planting, then getting little to no rain the past few months. Byrd said waiting on this ERP is just added pressure.
"Everything that's went into our crop has increased, and we're still waiting on help to finish up last year," Byrd said.
So, Byrd said he'd like to see something changed in the 2023 Farm Bill to get money to the producer faster when needed.
"Something that we can count on and know when those payments would be made," Byrd said.
Below is the statement a USDA spokesperson sent KCBD:
Funding for the Emergency Relief Program (ERP) and the Emergency Livestock Relief Program (ELRP) is made possible through the Disaster Relief Supplemental Appropriations Act, 2023 (P.L. 117-328) that provides about $3.7 billion in financial assistance for agricultural producers impacted by wildfires, droughts, hurricanes, winter storms and other eligible disasters occurring in calendar year 2022. Additionally, the Act specifically targets up to about $500 million to livestock producers for losses incurred due to drought or wildfire in calendar year 2022. The USDA's Farm Service Agency (FSA) will soon be making announcements regarding program implementation.
This funding is in addition to the $10 billion Congress included emergency relief funding in the Extending Government Funding and Delivering Emergency Assistance Act (P.L. 117-43) to help agricultural producers offset the impacts of natural disasters in 2020 and 2021.
Last year, USDA streamlined the delivery of that $10 billion emergency relief funding, speeding up the timing of payments and cutting the time spent on paperwork by 90% or one million hours relative to previous disaster programs. Here's a breakdown of ERP disbursements.
While we will use the same streamlined approaches for 2022 losses, funding is limited and significantly less than the estimated losses. USDA intends to send pre-filled applications directly to eligible producers this summer.
Based on positive feedback from producers, stakeholder groups and FSA county office staff, USDA intends to provide an ERP track for producers who had coverage through Risk Management Agency's federal crop insurance or FSA's Noninsured Crop Disaster Assistance Program (NAP).
For producers who have not been able to avail themselves of risk management coverage or whose losses were not covered, USDA intends to offer a program track to access ERP assistance to producers who suffered a decrease in allowable gross revenue in 2022 due to necessary expenses related to losses of eligible crops from a qualifying natural disaster event. FSA intends to implement ERP for producers with insurance coverage and those without, at the same time instead of two separate phases on different timelines.
For impacted ranchers, FSA will leverage Livestock Forage Disaster Program (LFP) data to deliver ELRP assistance for increases in supplemental feed costs in 2022.
To be eligible for an ELRP payment for 2022 losses, livestock producers will need to have suffered grazing losses from wildfire or in a county rated by the U.S. Drought Monitor as having a D2 (severe drought) for eight consecutive weeks or a D3 (extreme drought) or higher level of drought intensity during the 2022 calendar year and have applied and been approved for 2022 LFP. Additionally, otherwise eligible producers whose permitted grazing on federally managed lands was disallowed due to wildfire will also be eligible for ELRP payments if they applied and were approved for 2022 LFP.
In a continued effort to streamline and simplify the delivery of ELRP benefits, eligible producers will not be required to apply for payment.
Copyright 2023 KCBD. All rights reserved.