Texas AG Ken Paxton's affair explains his illegal acts, former aide testifies at impeachment trial
An extramarital affair Texas Attorney General Ken Paxton had with a donor's employee is at the center of his impeachment trial on accusations of corruption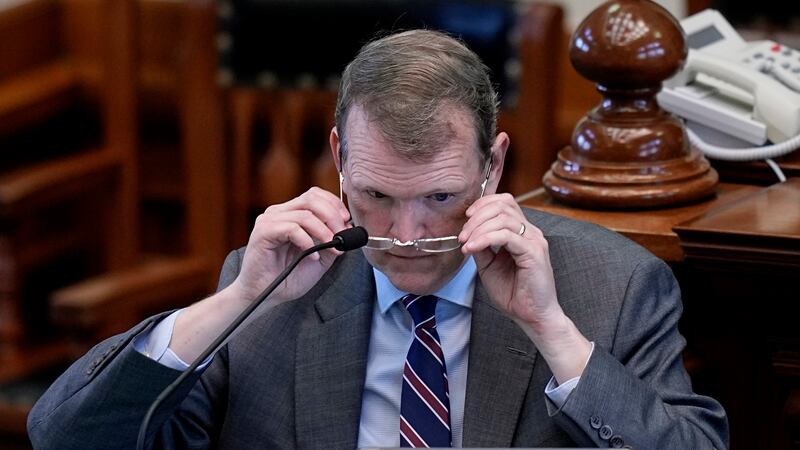 Published: Sep. 6, 2023 at 3:55 PM CDT
AUSTIN, Texas (AP) — An extramarital affair Texas Attorney General Ken Paxton had with a donor's employee helped connect the dots about why the Republican was using his power in ways that are now at the center of his impeachment trial on accusations of corruption, a former top aide testified Wednesday.
"It answered that 'why' question," said Jeff Mateer, who was Paxton's second-in-command at the Texas attorney general's office.
The account by Mateer, who went on to report Paxton to the FBI in 2020 over allegations of abuse of office, quickly injected an affair that Paxton has acknowledged to staff into the historic impeachment trial — the gravest threat to Paxton's political career after years of criminal charges and alleged scandal.
At the center of the case are accusations that Texas' top lawyer wrongfully used his power to help Austin real estate developer Nate Paul, one of his political supporters who was under FBI investigation at the time and was indicted this summer on charges of making false statements to banks.
On cross examination, Paxton attorney Tony Buzbee did not delve into the affair but waived off Paul's $25,000 campaign contribution as an unremarkable donation in Texas politics. He argued that Paxton intervened because his staff wasn't doing their job.
"Couldn't you see how maybe your boss might be frustrated?" said Buzbee, a high-profile Houston attorney whose past clients have included former Texas Gov. Rick Perry.
Paxton, who is not required to attend the proceedings in the Texas Senate, was again absent when Mateer took the stand as the first key witness in a trial that could last several weeks. Paxton's wife, state Sen. Angela Paxton, is not allowed to vote in the trial and watched from her desk while Mateer testified.
More than 100 people have been identified as potential witnesses for the trial, according to a list obtained by The Associated Press. They include the woman with whom Paxton had the affair, but it is unclear whether she or others on the list will testify.
By starting with Mateer, Republican impeachment managers opened their case with one of the closest members of Paxton's former inner circle. But they also put forth a first witness with firm conservative credentials before a jury of mostly Republican senators.
Mateer, a Christian conservative lawyer, was once nominated by former President Donald Trump for a federal judgeship. Paxton has argued that the impeachment is politically motivated and driven by members of the GOP who are "RINOs" — meaning "Republicans in name only."
The Republican-led House voted 121-23 to impeach Paxton in May, with the 20 articles of impeachment including abuse of public trust, unfitness for office and bribery. The vote immediately suspended Paxton and made him only the third sitting official in Texas' nearly 200-year history to be impeached.
A two-thirds majority — or 21 senators — is required for conviction, meaning that if all 12 Democrats vote against Paxton, at least nine Republicans would have to join them.
According to Mateer, he and other senior staff under Paxton had grown increasingly concerned as their boss began taking what appeared to be a personal interest in Paul's claims that he had been unjustly targeted by the FBI. He said they became particularly troubled when Paxton hired an inexperienced outside lawyer to look into Paul's accusations that appeared baseless.
Mateer said he struggled to understand why Paxton was helping Paul, but that upon learning about the continued affair, the situation became clearer in his mind. He said he and other staff members, including seven other whistleblowers who also went to the FBI, tried to help Paxton but to no avail.
"We couldn't protect him because he didn't want to be protected," Mateer said.
How much Paxton will take part in Texas' first impeachment trial in nearly a half century is up in the air. Paxton left the proceedings early and cannot be compelled to testify.
"I want to thank you all for your prayers and support. I will never back down for defending freedom," Paxton posted Tuesday on X, formerly known as Twitter.
On Tuesday, dozens of Paxton supporters came to watch the start of the proceedings, some of whom traveled hundreds of miles. But on Wednesday, many rows in the Senate gallery were bare as the trial resumed.
For years, many Texas Republicans have resisted criticizing or facing head-on the litany of legal troubles surrounding Paxton, who has remained popular among the hard right by aligning himself closely to Trump and rushing his office into lawsuits that have halted priorities of the Biden administration.
___
Find AP's full coverage of the impeachment of Texas Attorney General Ken Paxton at: https://apnews.com/hub/ken-paxton