Local non-profit adds new bus stop in East Texas to provide free pregnancy services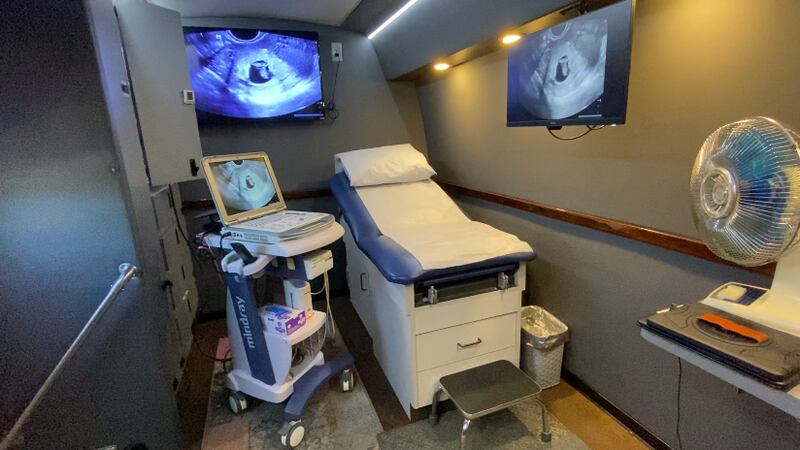 Published: Sep. 27, 2023 at 7:32 AM CDT
TYLER, Texas (KLTV/KTRE) - Among the U.S., Texas has one of the highest unintended pregnancy rates, according to the National Institutes of Health.
Having an unplanned pregnancy can bring a lot of challenges such as figuring out what's your next step.
Founded in 1982, Living Alternatives has had the same mission for more than 40 years to reach out to women experiencing unplanned pregnancies, to promote a culture of life for them, children, and families as well.
"We want to come right alongside and meet her right where she is at and really just offer our services and to help them be successful at parenting," said Lorin Roncancio the Executive Director of Living Alternatives.
One of the ways they're doing that is through their Axia Mobile Pregnancy Resource Center, which is a bus that provides free pregnancy tests, ultrasounds, and resources to members of the community they travel to. The bus travels across East Texas from Tyler to Marshall bringing these free resources for expecting mothers and now will start stopping at their newest location in Lindale.
"This mobile ministry it was a great opportunity to reach into other communities and also partner with people that are like-minded ... that are in the community but don't have the same resources," said Roncancio.
Through offering free pregnancy testing and early ultrasounds on board they fill in that need for expecting mothers.
"There's not a lot of easy access for women, especially when they first find out they are pregnant, a lot of women of childbearing years don't have insurance and are kind of scared where can I even start," said Patti Kenney registered nurse at the Axia Mobile Pregnancy Resource Center.
After each visit, they connect them to a range of resources from ongoing support to childbirth education, a resource for women who need that additional support in navigating pregnancy.
"We want to be there and help people have a successful pregnancy... our motto for Axia, the word Axia is a Greek word that means value worth in dignity," said Kenney.
For every woman, father, or family that steps foot on board, they hope to provide those answers or help them through the process.
"We want to value every human being that steps on board," said Kenney.
Right now, another location they could soon be serving is Kilgore.
If you want to learn more about this mobile pregnancy center or schedule an appointment, click here.
Copyright 2023 KLTV. All rights reserved.