Bulldogs reign over top spots in Red Zone Top 10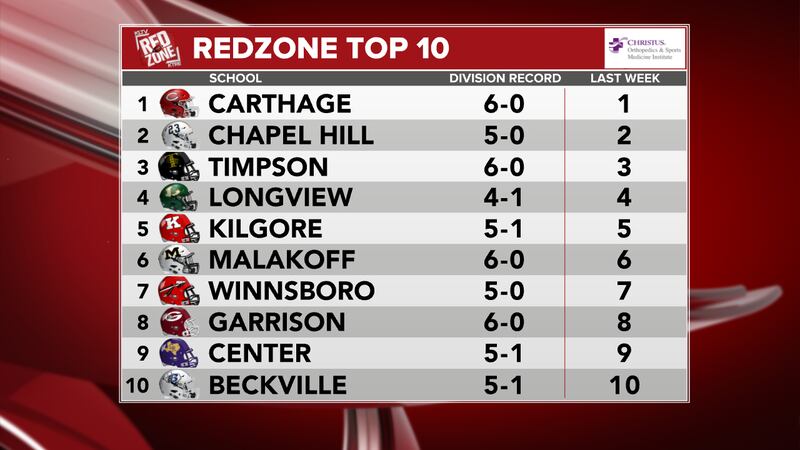 Published: Oct. 3, 2023 at 1:29 PM CDT
CARTHAGE, Texas (KLTV) - The Bulldog mascot is dominating four of the top 10 spots of the Red Zone Top 10.
1. Carthage 6-0 (2-0) - The Carthage Bulldogs shut out the Brownsboro Bears last week, 45-0, to remain undefeated on the season. The Bulldogs will head to Canton this week to take on the Eagles (0-2, 2-4).
2. Chapel Hill 5-0 (1-0) - The Chapel Hill Bulldogs began district play with a 40-31 win over Palestine last week. This week, the Bulldogs are back at home as they welcome the Jacksonville Indians (0-2, 0-6).
3. Timpson 6-0 (2-0) - The Timpson Bears recorded their season high in points last week with a 72-6 win over San Augustine. The Bears are off this week before heading to West Sabine (0-2, 2-4) on Oct. 13.
4. Longview 4-1 (2-0) - The Longview Lobos were off last week. This week, the Lobos head to Forney to take on the Jackrabbits (2-0, 5-0) in a pivotal district matchup.
5. Kilgore 5-1 (2-0) - The Kilgore Bulldogs defeated Jacksonville last week to improve to 2-0 in district play. This week, they'll welcome in the Lindale Eagles (2-0, 3-3) for the Red Zone Game of the Week.
6. Malakoff 6-0 (2-0) - The Malakoff Tigers recorded their second consecutive shutout last week with a 51-0 win over Fairfield. This week, the Tigers head to Teague (1-0, 4-1).
7. Winnsboro 5-0 (2-0) - The Winnsboro Red Raiders knocked Commerce from the ranks of the unbeatens last week with a 55-7 win. This week, the Red Raiders travel up Hwy 37 to take on the Mt. Vernon Tigers (1-1, 4-2).
8. Garrison 6-0 (2-0) - The Garrison Bulldogs traveled to Joaquin last week and defeated the Rams 49-14 to remain unbeaten on the season. This week, the Bulldogs return home where they will welcome in the Shelbyville Dragons (1-0, 3-1).
9. Center 5-1 (2-0) - The Center Roughriders won a shootout last week over Rusk 76-48. The Roughriders are off this week, before heading to Van to take on the Vandals (2-0, 5-1) on Oct. 13.
10. Beckville 5-1 (2-0) - The Beckville Bearcats hung 92, yes 92 points last week, on the Hawkins Hawks. The Bearcats are off this week and will return to action on Oct. 12 as they take on the Ore City Rebels (2-0, 3-2).
Copyright 2023 KLTV. All rights reserved.