Red Zone Top 10s Garrison, Beckville clash in area round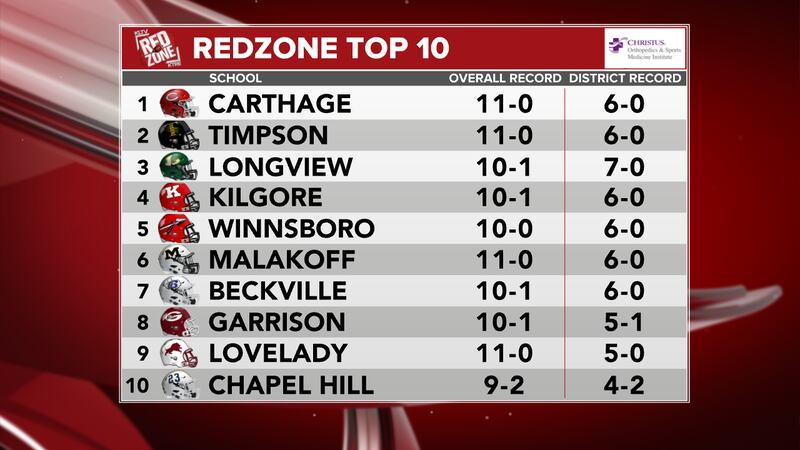 Published: Nov. 14, 2023 at 4:01 PM CST
1. Carthage 11-0 - The Carthage Bulldogs began their quest for title number ten last week with a shutout of Liberty Eylau (42-0). Carthage will play Van Alstyne this week at Sam Parker Field in Mt. Pleasant on Friday at 7 pm. Carthage beat Van Alstyne last year in the second round 61-30.
2. Timpson 11-0 - The Timpson Bears opened up their playoff run by beating Corrigan-Camden 68-7. The Bears will battle the Wolves of Wolfe City this week at Jack V. Murphy Stadium in Gladewater. Kickoff is set for 7 pm on Friday.
3. Longview 10-1 - The Longview Lobos hosted their first round playoff game against New Caney Porter and got the win 59-7. The Lobos will head to Mesquite this week to take on Frisco Reedy on Friday Night at 7 pm.
4. Kilgore 10-1 - The Kilgore Bulldogs recorded their 10th win in a row last week after knocking off Livingston 49-8. Kilgore makes the long drive to Houston this Friday Night to face Bay City. Kickoff set for 7 pm.
5. Winnsboro 10-0 - The Winnsboro Red Raiders started slow against Atlanta but pulled away to win 30-14. Winnsboro will play Teague this Friday Night at Norville Field in Kaufman. Kickoff at 7:30 pm.
6. Malakoff 11-0 - The Malakoff Tigers completed their 5th shutout of the season last week by defeating Maypearl 49-0. Malakoff will face Mt. Vernon Friday Night at 7:30 pm at Rose Stadium in Tyler in our Red Zone Game of the Week.
7. Beckville 10-1 - The Beckville Bearcats overcame the rainy conditions last Thursday and beat Alba-Golden 41-0. This week, Beckville will head to Lobo Stadium in Longview on Thursday to face the Garrison Bulldogs. Kickoff at 7 pm.
8. Garrison 10-1 - The Garrison Bulldogs bounced back into the win column last week by defeating Jewett Leon 58-0. This week they'll face the Beckville Bearcats who have won 10 games in a row. Kickoff is set for 7 pm on Thursday Night at Lobo Stadium in Longview
9. Lovelady 11-0 - The Lovelady Lions just keep winning. They knocked off Price Carlisle last week 30-14. The Lions look to even their win total from last season, this week, as they face Hico at Crusader Stadium in Belton on Friday Night at 7 pm.
10. Chapel Hill 9-2 - The Chapel Hill Bulldogs got back on track last week by winning against Little Cypress-Mauriceville 35-7. This week the Bulldogs travel to Planet Ford Stadium in Spring to face the El Campo Ricebirds. Kickoff set for 7 pm.
Copyright 2023 KLTV. All rights reserved.