Panola Co. courthouse makeover begins with new sloped roof to tackle water leaks
County judge: 'This is the temple of justice. We want to take care of it.'
Published: Nov. 15, 2023 at 6:02 PM CST
|
Updated: Nov. 15, 2023 at 8:27 PM CST
PANOLA COUNTY, Texas (KLTV) - When the Panola County Courthouse opened in August of 1953, flat roofs were all the rage, according to county judge Rodger McLane.
"Those roofs are not the best for our climate," he said.
Through the years, wear and tear combined with torrential downpours have resulted in water damage throughout the courthouse and leaks threatening important records in places like the county clerk's office.
"We depend upon the natural gas industry here," McLane said. "Those files and data records are all in the county clerk's office and we can't afford to get them wet."
And that's why Panola County is investing about half a million dollars on a new sloped roof with a 20-year warranty. It's the first step of a phased plan to give the courthouse a much-needed makeover.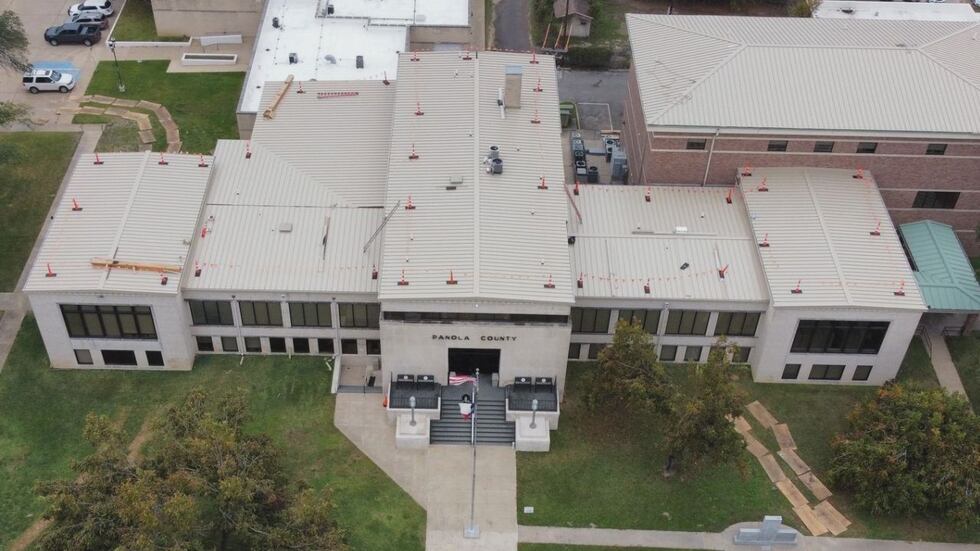 "You can only put a Band-Aid on a problem for so long," McLane said. "One of our commissioners, Mr. Dale LaGrone, said that since he's been here, for 20 plus years now in his office, they've replaced the roof more times than they can remember."
More renovations are expected at the start of the new year, as the county moves constable and justice of the peace offices, along with combining the property tax office with auto registration. These changes will come with growing pains, according to McLane.
"If we don't take care of the county's investment and infrastructure, our next generation will be faced with building a new courthouse at an extremely outrageous price," McLane said. "We're landlocked. Where are we going to go? Are we going to move to the loop by Walmart? No, we want our courthouse downtown. There's something to be said about that."
Copyright 2023 KLTV. All rights reserved.