Prayer march held in support of ousted Tyler bishop
Published: Nov. 18, 2023 at 10:30 AM CST
TYLER, Texas (KLTV) - Hundreds of East Texas Catholics gathered in downtown Tyler on Saturday morning for a prayer march in support of the former bishop of Tyler, Joseph Strickland.
"We are not here to protest; no one is going to be talking about any current events or anything that is going on, we are just going to pray the rosary," said Justin Haggerty, who led the procession.
Haggerty is with the Knights of the Republic, a catholic group whose goal is to "restore the prestige and glory of Holy Mother Church and Christendom." They organized today's march.
"He's a very humble man. He's constantly saying it's not about him, it's about Christ, and we want to continue to send that message," said Randy McDonald, while wearing his "Stand with Bishop Strickland" shirt.
The procession began at the Cathedral of the Immaculate Conception at the intersection of Front Street and South Broadway Avenue and proceeded to the downtown Tyler square. At the start, a lone counter-protestor was present.
"I don't care who people are in love with. I don't care what a woman decides to do with her body. It's none of their business; I don't feel it's any of the church's business," said Kelly Coonce.
Strickland has been an outspoken critic of Pope Francis, criticizing the church leader's discussion of topics such as blessing same-sex marriages at the Synod on Synodality, an ongoing meeting of church leaders in Rome.
"Our culture changes, our time changes, so the church has to decide, 'How do we fit in with that change?' And, we always have to go back to what Christ has given us," said Elizabeth Young. "There are some in the church today who would like to see us change, but you cannot if you remain on the premise that this is what Christ gave us."
Strickland was not in attendance. We have reached out to him for comment on today's events.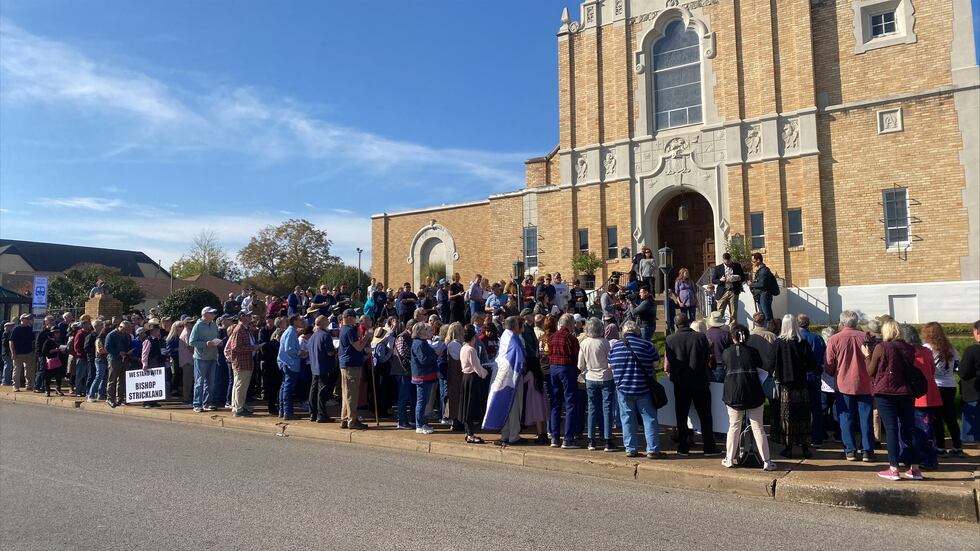 RELATED:
Copyright 2023 KLTV. All rights reserved.