Caddo Mounds State Historic Site prepares to host Culture Day three years after tornado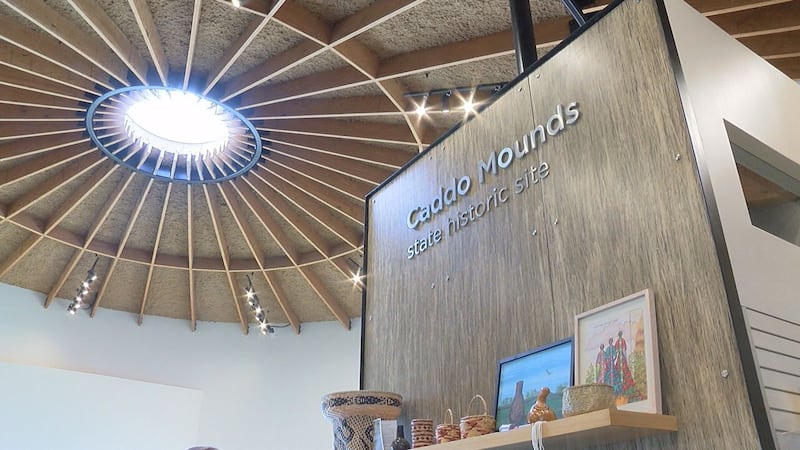 Published: Nov. 20, 2023 at 7:05 AM CST
ALTO, Texas (KTRE) - For years, the Caddo Mounds State Historic Site has been rebuilding. In 2019, an EF-3 tornado wiped out multiple structures and left dozens of people injured.
The last time Caddo Culture Day was celebrated, it left many with a traumatic experience.
"This is really a big event for all of us, and there's probably going to be some raw emotions. It's hard to say how people are going to react," said Friends of Caddo member Jeff Williams.
He and other members met Sunday afternoon to discuss plans to return the event to the site.
Assistant Site Manager Rachel Galan said in past years they would welcome those demonstrating many traditions. "We will have Caddo drummers and dancers. The Caddo will do social dances. They are dances that have been part of their culture since the beginning," she explained.
This year, they will be highlighting the Caddo basketry revival project.
"It's designed to kind of reawaken the art of traditional rivercane basket making within the Caddo, so we have five Caddo basketry students, and they will be talking about that project," she said.
Rachel Galan's husband, Victor, is treasurer for the Friends of Caddo Mounds. He said the tornado left him paralyzed from the neck down, but his experience doesn't stop him from feeling excitement.
"It's a build up. It's something that slowly evolves, you know, going from the ideas. Even though we've been doing Caddo culture days for quite a while, each time is unique," Victor Galan said.
Rachel Galan said there were 85 people on the site when the tornado touched down, and many have returned to be part of the rebuild and planning.
"It's a roller coaster of emotions but also a real symbol for all of us of resilience," she said.
Culture Day is Dec. 2 from 10 a.m. to 3 p.m. at the Caddo Mounds State Historic Site.
For more information about Caddo Culture Day or to learn how to volunteer, click here.
Copyright 2023 KTRE. All rights reserved.