Men charged in Killeen bank robbery caught with money, note demanding cash from teller: affidavit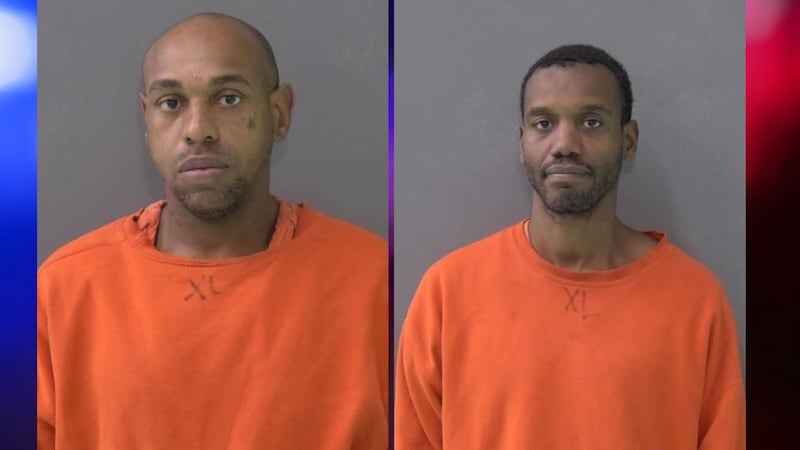 Published: Nov. 20, 2023 at 2:31 PM CST
|
Updated: Nov. 21, 2023 at 6:44 AM CST
KILEEN, Texas (KWTX) - Two men arrested in a bank robbery in Killeen on Nov. 14 were caught walking near the bank, and one of the suspects had the money and a note demanding cash from the teller in one of his pockets, arrest affidavits state.
Deavon Mantell Croom, 37, and Rekcaz Patrick German, 40, are both charged with robbery, a second-degree felony.
According to the affidavit, the teller told police that one of the suspects wearing a red and white checkered shirt, who was later identified as Croom, gave her a note instructing her to give him all the money. German was seen behind Croom during the exchange, the document states.
The teller said she gave the man the money in her drawer and the two men left.
"She knew this was not a regular customer transaction because the note requested 'all' the money and did not contain any account or customer information," the affidavit states.
According to the victim, the note "caused her to fear for her life and safety and that she was concerned the men would harm her if she did not comply with the demand."
Bank employees calculated the amount of money taken from the teller to be $1,009, states the affidavit.
Officers spotted Croom and German walking nearby and searched them.
An officer allegedly found tucked into German's pants a plastic bag that contained the $1,009 in cash and a note stating, "Hi, how are you doing today? Can you please give me all the money? Thank you! Have a nice day!"
Both men are currently being held at the Bell County Jail on $100,000 cash bonds.
Copyright 2023 KWTX. All rights reserved.