East Texas Black Bear Task Force meets in Lufkin to discuss future bear population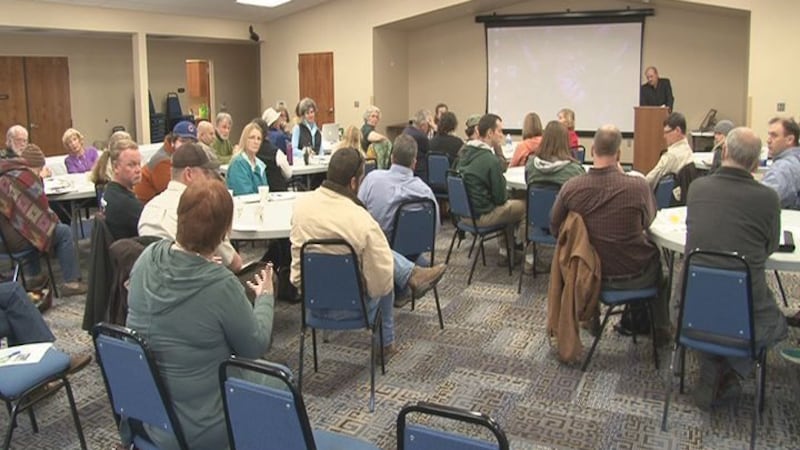 Published: Feb. 26, 2015 at 11:25 PM CST
|
Updated: Feb. 27, 2015 at 3:37 AM CST
LUFKIN, TX (KTRE) - The East Texas Bear Task Force held their winter meeting Thursday at the Ellen Trout Zoo. The meeting was to discuss the progress of a future Black Bear population in East Texas.
"The Louisiana Black Bear is native to East Texas," task force Chairman Nathan Gardner said. "East Texas is the perfect spot for the bears to be."
Gardner told the crowd that East Texas was home to the bears but after World War II researchers started to notice a decline.
"They disappeared due to over hunting and destruction of their habitat," Gardner said.
Gardner also said there is plenty of room in East Texas for the bears to have a livable area.
"We have nearly a million acres across East Texas that have good bear habitat," Gardner said.
The Louisiana Black Bear is native to environments found along the Angelina, Neches and Sabine Rivers. The population has dwindled in Texas but researchers claim other states nearby are experiencing growth.
"Louisiana has a lot of bears," Gardner said. "So does Arkansas and Oklahoma."
Gardner told the crowd that 30 years ago, Oklahoma did not have any bears and now the state has between 400-600 bears.
The task force uses research from SFA Professor Christopher Comer. Comer has been studying to find out the best places for the bears to re-populate. Comer believes the bears and humans can co-exist.
"There are rather large in states that are densely populated like Pennsylvania, New York State, New Jersey where they have hundreds of bears living in close proximity to people," Comer said.
Comer said it is only a matter of time until the bears return to East Texas.
They do eventually, naturally re-colonize these areas but it will take a lot of time," Comer said.
Sarah Fuller said the bears do get a bad reputation.
"These are not Grizzly Bears," Fuller said. "These bears like to hand out and hide in the woods. They are omnivores but mostly eat plants."
Fuller also said the re-introduction of black bears into East Texas will be a long process.
"It is a long way away because the black bears are returning naturally, so it is going to take some time," Fuller said. "We are in this for the long haul. This is likely a multi-generational effort."
For more information on the group's effort,
.
Copyright 2015 KTRE. All rights reserved.