FedEx truck crashes, loses mail north of Livingston
Published: Jun. 16, 2015 at 12:56 PM CDT
|
Updated: Jun. 16, 2015 at 4:51 PM CDT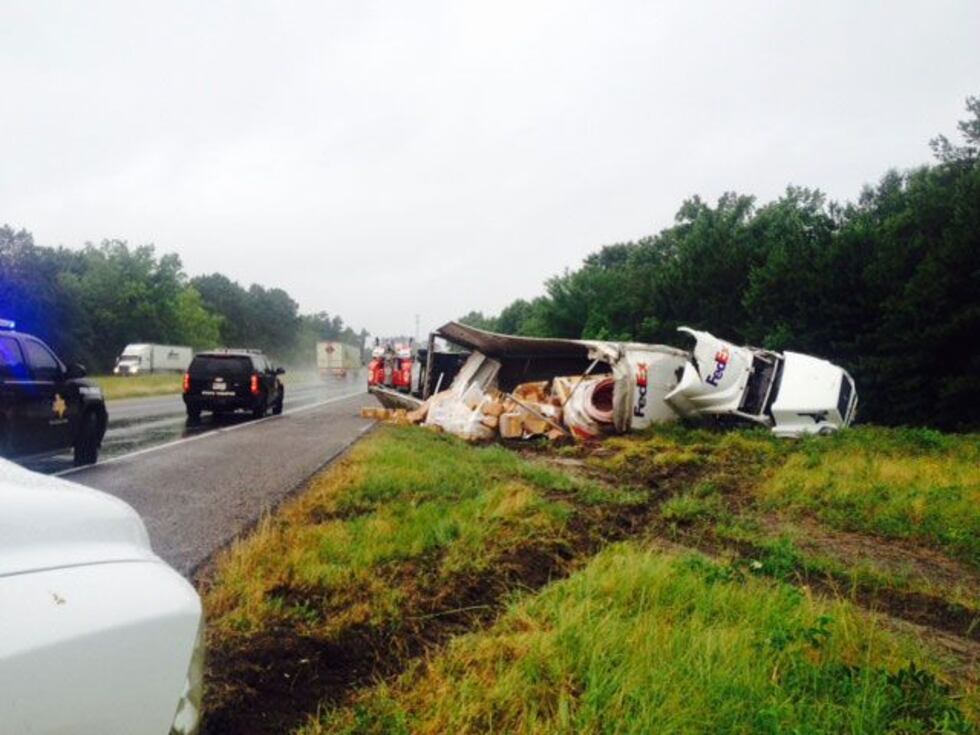 POLK COUNTY, TX (KTRE) - One lane of US Highway 59 North is still closed after a FedEx truck rolled over about a mile north of Leggett early Tuesday morning, strewing packages along a grassy area off the road.
According to a press release from the Texas Department of Public Safety, the Livingston DPS office was notified of a one-vehicle crash involving a 2012 Volvo FedEx tractor-trailer rig at about 5:45 a.m. Tuesday. The accident occurred about one mile north of Leggett.
The FedEx was traveling south on US 59 when it left the road to the right and rolled over, the press release stated. The driver of the truck was identified as Richard Kurzhal Jr., 42, of Houston, and he was transported to a Livingston hospital for treatment of possible injuries.
Texas Department of Transportation workers are assisting with traffic at the scene. Although the FedEx truck was transporting some hazardous materials as part of its load, no spills or releases of the materials have been reported, the press release stated.
"A Hazmat team is on scene securing those packages for further transport," the press release stated.

According to a statement from FedEx, the truck was on its way to Houston's Hobby Airport from Marshall. The statement said most of the truck's cargo came from Little Rock, Arkansas and St. Louis, Missouri for distribution to other locations.

"With regard to the cargo on board, we have measure in place to immediately recover as much as possible and to communicate with our customers as appropriate," said the statement from FedEx.

On the southbound side of US 59, the inside lane is still open, but the outside lane is closed while the scene is being cleared. Motorists are urged to use caution while traveling through the area.
Copyright 2015 KTRE. All rights reserved.